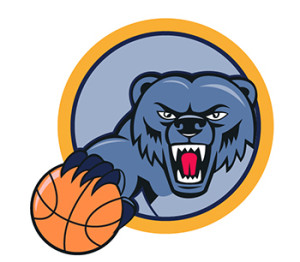 The Countdown to 6: Grizzlies at Spurs
Six. That's the magic number. It is the number of wins the Grizzlies must obtain to ensure a spot in the playoffs. This has been one hell of season and that's putting it lightly. As of now the Grizzlies still hold the 5th seed in the Western Conference. Tonight the Grizzlies kick-off what remains of this season in San Antonio. Snagging a win in San Antonio could be not only a momentum booster but would give the Grizzlies a greater chance of being playoff bound and holding onto that 5 seed. When you take a peek at the tough schedule the Grizzlies still have left to play a win tonight hold's an even greater impact.
Despite being riddled with injury Memphis has been able to pull off wins. This team of young, hungry players has time and time again proven that the old Grit-and-Grind is not dead. The attitude, the philosophy of playing hard and leaving everything on the floor has turned what could have been a disaster of a season into a testament to the how great the Grizzlies are. San Antonio is going to be a challenge. In our favor is the fact that the Spurs will play the Thunder on Saturday night and Danny Green, Boris Diaw and Patty Mills will be found on the bench tonight for rest. Kawhi Leonard is also going to be out due an injury sustained against the Miami Heat on Wednesday night. The Spurs missing 2 starters and 2 key reserves is not horrible news for the Grizzlies. That said the Spurs are playing to continue a 45 home-game winning streak and are on their way to making NBA history with another win. They don't want to lose this game.
So, how can the Grizzlies possibly go into San Antonio and beat the Spurs? At face value this game seems almost impossible to win but nothing is ever impossible. Ever since our 8 seeded Grizzlies managed to oust the 1 seeded Spurs in the 2011 playoffs we have had to rise to the occasion and believe that this team is capable of anything. Here are my quick snippets on what I think the Grizzlies can do to defeat this Spurs team.
Be Unpredictable. The Spurs are a well oiled machine. They know how to beat the Grizzlies. So far this season they have won both of the match-ups. Since our defeat of them in the playoffs the regular season record is 14-4 in favor of the Spurs. Those numbers are pretty defeating. However, the Spurs know how to beat a Grizzlies roster that does not look exactly like the one we have now. So, that's why I say Memphis needs to be unpredictable. Zach Randolph's unpredictable performance in 2011 is what sent the team over the edge. The Spurs weren't ready for what the Grizzlies threw at them. To win, the Grizzlies will need to find a way to throw the Spurs off their game again. Whether it be through some of the team-focused ball movement we have been seeing from Memphis or that tonight we are in rhythm and sink an un-godly amount of three-point shots. That unpredictable factor must be present.
Every One Must Play Their Part. One of the keys to the win against the Clippers was that every player who touched the court played his part. Every single one of them was willing to step up and carry the team. That meant Zach Randolph passing the ball instead of scoring at times, Ray McCallum shooting with confidence and scoring and Lance Stephenson creating plays when there weren't any. It meant great defense and taking advantage of every opportunity. If the Grizzlies are going to get a win against the Spurs every single player MUST play his part and find a way to contribute. Memphis has a group of scrappy players who have found a way to bond together and work as a team. This teamwork is only going to be a positive in tonight's match-up.
Physicality. One of the greatest weapons that Memphis has in their possession is the ability to dominate teams with their physicality. Memphis still brings a gritty, hard-nosed attitude to the court even with the quickened pace of the new roster. The Spurs rank number one in the league in defensive efficiency allowing only 95.5 points per game. Shooting "lights-out" against this team would be nice but probably isn't going to happen. The Grizzlies need to use their physicality to make plays happen. When the Spurs focus on keeping Randolph under wraps, Stephenson and Green need to have their way in the paint and bring the game down low. A physical game means the Spurs won't have the opportunities they normally do to move the ball and create open looks. The Spurs average 19.2 assists per game. Being physical and slowing down that ball movement is pivotal to walking out of AT&T Center with a win.
This Memphis team can beat the Spurs. We can also embarrassingly lose. I am going to believe though, that the desire to win and the hunger to make a statement will fuel this team to overcome in this game. So you better tune in tonight at 7:30pm and cheer on your Memphis Grizzlies as they look for one more win to get them closer to securing that playoff spot!
The game will air on Fox Sports Southeast.
*Zach Randolph has been listed as questionable for tonight's game due to a right ankle sprain. The last update was from Rob Fischer.
Updated @memgrizz injury report adds Zach Randolph who is questionable for tomorrow vs. Spurs with a right ankle sprain

— Rob Fischer (@thefishnation) March 24, 2016
**Injury Update: Zach Randolph will not play tonight against the Spurs.
Updated @memgrizz injury list:
Zach Randolph is out tonight vs. @spurs with a sprained right ankle. ZBo sprained the ankle Tuesday vs. LAL

— Rob Fischer (@thefishnation) March 25, 2016
**All Stats taken from NBA.com and ESPN.com**

Tabitha was a Memphis transplant who fell in love with the Grizzlies when she moved to the 901. She now resides in Houston where she frequently finds herself in debates with Rockets fans.

Latest posts by Tabitha Smith (see all)