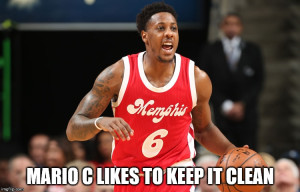 In Shy's Corner: How do I say goodbye?
It has been a little over two weeks since Mario Chalmers has been in a Memphis Grizzlies uniform. He was waived by the team after rupturing his right Achilles tendon in a game against the Boston Celtics on March 9th.
This injury was one of the toughest of the season for me. I know some will say why get emotional about a player; it's about the name on the front of the jersey and not the back of it.
Don't get me wrong when Marc Gasol went down and I felt bad about it; however, I know Marc will be with the Grizzlies next season after he is healed. But when I found out Chalmers was out for the season and subsequently waived, I had a bad feeling in the pit of my stomach.
Here's what Grizzlies Coach Dave Joerger had to say about Chalmers:
"It kind of stinks that we had to release Mario but at least but it was really only a cosmetic thing to open a roster spot. But I feel terrible for him because he was playing well, he's had a good season, he has given us a real shot in the arm all season long.

He had a good showing as he had an opportunity to be a starter and that he can be a capable starter in this league. It just makes us all sick to see him go down like that and we are hoping he can come back and be 100 percent, especially at a speed position. We are all thinking about him."
In this edition of In Shy's Corner, I will explore why it's so hard to say goodbye to Mario Chalmers.
Chalmers was a hated man in Memphis for a long time. He dashed hopes and dreams when he hit a game tying shot against the Memphis Tigers in the national championship game against Kansas in 2008.
Many in Memphis weren't over Chalmers' game tying shot and were still upset about that for a very long time. He received tons of boos whenever he came back to Memphis to play as a member of the Miami Heat. Some folks in Memphis still are upset with him for that shot. But then he was traded to the Memphis Grizzlies. Some hated the idea but some loved it.
Believe it or not Rio [Chalmers] embraced Memphis and most of Memphis embraced him. I talked to Rio in the Grizz locker room after a game one night. He was talking about how Memphis reminded him of how things were back home in Alaska and how he loved the food here.
I believe Rio was one the best back up point guards the Grizzlies ever had. He took a lot of the load off of Mike Conley and he contributed. Chalmers talked about his first game in a Grizzlies' uniform:
"It was a great welcome. I was surprised by the fans. I thought there'd be a little bit of booing in there, but they made me feel right at home so that was a good thing about it. My teammates made me feel comfortable and the coaching staff made me feel comfortable. It can only go up from here."
Rio really fit in well with the guys on the team. He has heart..grit and grind. Even if he had a bad shooting night, he gave his all. In the game against the Thunder earlier in the season, he scored 29 points while going 6-of-13 from the field and 4-of-7 from beyond the arc. I truly believe that was his welcome party at the Grindhouse that night. Dave Joerger raved about him following the game:
"I guess maybe if I try to coach too much and then his numbers go down, it's going to be on me. So, we'll maybe keep it simple. But, you know, keeping him in pick-and-rolls, being aggressive, and defensively he gets his hand on balls, so he gets you some extra possessions. He's feeling a lot of confidence, and he's feeling a lot of love. So, I told him, 'Welcome to Memphis,' and, 'They love you.'"
He just belonged on this team. He is a tough dude. Fans also fell in love with him after he had a scuffle with the hated Jusuf Nurkic. He proved he was never scared and he wouldn't back down against that big dude. That was so Memphis!!
Here's what Zach Randolph said about Chalmers after the Nuggets game in January:
"I think Mario definitely fits in. He isn't going to back down, that's what I like about him. He's a tough player. He fits in well. He is shooting the ball really well and playing with a lot of confidence. He's a champion and that's what we need."
Marc Gasol talks about Rio's first game with the Grizzlies:

"From what I saw tonight, I loved him. He's feisty. I already knew how he played, of course. I know what kind of guy he is, how serious he takes it and how competitive he is. I'm glad to have him. He fits right in. Defensively, I loved him. He was disrupting plays and making guys very uncomfortable."
And he did things like this:
Mario Chalmers is the first #Grizzlies player to record 10+ assists off the bench in a home game since Chucky Atkins on 1/31/2007.

— Ross Wooden (@RossWooden) January 29, 2016
Also there's this:
Chalmers made an impact on this team from the moment he stepped on the court. Losing him was a tough pill to swallow.
He has heart even in the midst of his struggles:
I wanna thank all my fans for the good well wishes. Just a little minor setback for a major comeback.

— Mario Chalmers (@mchalmers15) March 11, 2016
I truly understand why the Grizzlies waived Chalmers. But it is hard, nonetheless. It's not everyday one find players who fit in so well with a team from day one as he did. He's a baller and a fighter. He will truly be missed.
Chalmers is a champion and he will definitely bounce back. It's just so hard to say goodbye, but hopefully I will see you again in a Memphis Grizzlies' uniform, Rio.

Latest posts by Sharon Brown
(see all)