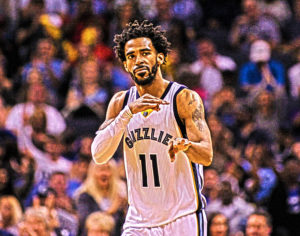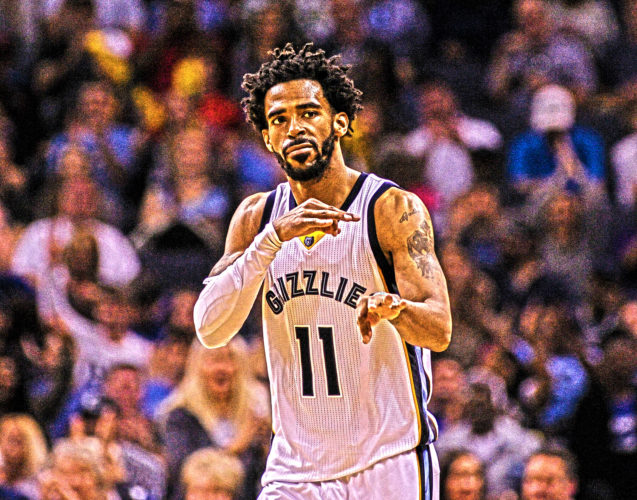 The Season Hinges on Captain Clutch
He's been through a multitude of injuries the last few years, and last season Mike Conley had to watch in agony as his team sank to new lows.
Over the summer, Conley's family became bigger as he welcomed another baby boy, but other than that, Captain Clutch (as many Grizzlies fans call him) has been relatively quiet in the offseason.
In the 2017-2018 NBA season, the former Ohio State stand-out had to undergo a surgery to repair a bone intrusion in his heel, which planted him on the bench for the remainder of that disastrous season.
With so much talk of tanking and the future, the Grizzlies star player has been left in the shadows, and his future with the team is unclear. Much talk has gone on for trading Marc Gasol, but Conley, being younger, still has some prime years left in him. That is, anyway, if he can remain healthy.
Mike Conley has played under a host of different coaches during his tenure with the Grizzlies, and this season he'll be playing for J. B. Bickerstaff.
When asked about the Grizzlies hiring the former assistant coach, Conley said, "he definitely deserves the job." After the day was done, I told y'all that "Bickerstaff will be promoted from interim to permanent head coach "and that the Grizzlies should just give this guy his contract and be done with it." (Per the Commercial Appeal)
A positive takeaway is that the 6'1″ guard appears to be behind Bickerstaff, and that component is crucial going into this season full of unknowns. The coaching situation in Memphis has been so rocky the past few seasons, so any stability from a player's support is at least a little encouraging.
Conley has been with the Grizzlies for 11 seasons, and he has become an icon both on and off the court in the Bluff City. However, despite his impressive play and selfless attitude, his career is still lacking a championship ring. As he is still locked into a contract with the Grizzlies, Conley has to stay on board, unless Chris Wallace gives the green light to trade him.
Which brings us to the question of how can Mike Conley make the best of this season with the Grizzlies?
Stay Healthy
Now, I know you might be thinking – how can Conley help himself not become injured?
He's going to have to let other players step up in his occasional absence, especially the new faces of the franchise. If the Grizzlies are going to make any kind of a legitimate playoff push this season, then the starting point guard has to remain healthy.
Spread the floor
The number one thing that the "Floor general" can do to help the Grizzlies play is to spread the floor. Still lacking a major wing star, the Grizzlies need all the three-point shooting they can get. That's where Captain Clutch comes in. In the past, his numbers have been pretty decent in this category.
However, the numbers dropped to an abysmal 31.2 percent last season. Getting that number back up to at least 36 percent is crucial to the Grizzlies offensive success. A side note, Conley's sample size last season was incredibly small (twelve games) but he took 77 threes and only made 24 of them.
Can peak Mike Conley be resurrected?
It seems like a distant memory, doesn't it? A healthy Mike Conley playing over 70 games a season, the guy shooting around 45 percent from the field and the guy averaging 6 assists a game? Yeah, I miss him too.
With so many twists in the Grizzlies franchise and the unreliable status of Conley's health, it's reasonable to wonder if we'll ever see that version of Captain Clutch again. If Memphis wants to reach new heights this season and breathe some life back into its franchise, a top-level Conley is key.
The last truly memorable Mike Conley moment of recent time, for me, was his heroic performance at the Golden State Warriors in the playoffs in 2015, during which he carried the Grizzlies to an incredibly unlikely win.
Moments like this remind me of the heart that Conley has.
After one of the worst seasons in franchise history, many questions have popped up over the summer about the fate of the Grizzlies, leaving fans wondering if this team can achieve anything near success again. That anticipation will only grow as the season nears.
Conley can provide some stability this season if he can return to his former Captain Clutch glory. Much of this season's success hinges on Mike Conley, and hopefully, he's up for this new challenge.
Latest posts by Grace Baker
(see all)