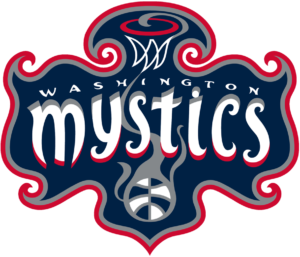 Mystics Improve to 5-2; Defeat Atlanta Dream 78-72
By: Jasmine Brown
It was the Mystics 20th anniversary in establishment and they wanted to celebrate with a win. However, the Mystics once again had a nail biting 4th quarter, but it wouldn't be down to the last second this game thanks to some clutch shooting down the stretch.
What you need to know:
1. Elena Delle-Donne had 23 points and a career high 15 rebounds.
2. The Mystics were without Tayler Hill (injury), Natasha Cloud (injury) Asia Taylor (injury) and still managed to pull out the win.
3. Four players hit double figures Sunday: (Delle-Donne 23, Toliver 15, Hawkins 13, Pratt 11)
4. Shatori Walker Kimbrough started in her first game in her pro career.
5. Coach Mike Thibault reached 275 wins with the win against the Dream.
The Mystics were on fire in the first half, shooting over 70 percent of their shots. Kristi Toliver went 4/4 from 3 and looked unstoppable from behind the arc.
After taking a 23-16 lead after the first quarter, they continued to a 41-32 lead into the half. But Atlanta would not go away, as they went on a huge run and would only lead by 5 to start the 4th quarter.
They cut the lead to as much as one and eventually took the lead with under a minute remaining in the game.
Elena Delle Donne got hit as she shot the three, giving her 3 free throws. Delle-Donne hit all three and gave Washington a win, and the Dream a really bad nightmare.
The Mystics take on the Dallas Wings on the road Tuesday. Tip off starts at 8 p.m.
***Originally posted here DMV Sports plus***