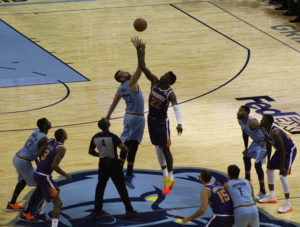 In Shy's Corner: Four points on Grizzlies 117-96 victory over Suns
Here are four points on Grizzlies 117-96 win over Suns. 
1) Balanced attack led by Big Spain
Marc Gasol played a big part in his team's victory over the Suns on Saturday night. With 19 points and eight boards, Gasol set the right tone and showed no signs of injury. Gasol left Wednesday's loss against Sacramento with a neck and shoulder injury. Memphis had five players in double figures including three starters.
Mike Conley chipped in 18 points and handed out a game-high seven dimes. Meanwhile, Garrett Temple scored 15 points and went 6-for-6 at the free throw line.
I think defense is what really keys and starts our offense for us," said Conley. "Gives us easy opportunities. Gives us a different flow, a different rhythm — it allows us to play with a little more pace and get guys more opportunities."

2) Bench play
The Grizzlies bench scored 57 of its 117 points on Saturday night. MarShon Brooks and Wayne Selden combined for 32 of the 57 bench points. M. Brooks, as I like to call, the 'Professional Bucket Getter" let loose off the bench with 18 points on 7-of-9 shooting.
Selden ended with 14 points, going 4-for-4 in the first half.
Grizzlies head coach J.B. Bickerstaff took pride in his bench's performance. "I think they were awesome," he said. "I think as we go through this process of finding a rhythm and the right units that play well together, it's great to have guys that come off the bench and complement each other. They did a great job defensively, but were also able to score the ball.
Bickerstaff added, "Wayne [Selden Jr.] did a really good job, Dillon [Brooks] did a good job, [Omri] Casspi and them, then Shelvin [Mack] is always steady, that corrals everybody together. But I think we're seeing growth there with guys that compete and execute what we're trying to get done."
Shelvin Mack (8) and Omri Casspi (5) both were perfect from the field while going 4-of-4 and 2-of-2 respectively.
Dillon Brooks arguably played his best game so far of the season. He was tenacious on defense and ended with eight points and two steals.
3) Yuta Watanabe made his historic debut.
He became the second Japanese-born player in league history to appear in a regular season NBA game. The first was Yuta Tabuse for Phoenix in the 2004-05 season.
Watanabe knows the significance of his debut to fans in his native Japan. He said, "I think that they are excited right now. I know it's been like 14 years since Yuta Tabuse played in the NBA so it took a lot of time but I think as Japan, we move forward today.
He goes on to say, "I hope I make them proud and a lot of young guys watch this game and the NBA becomes their dream."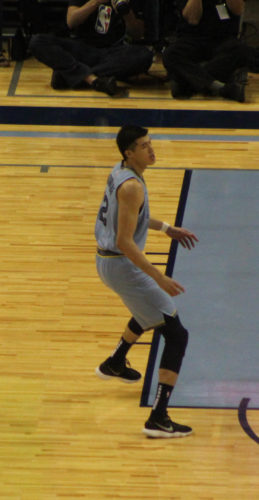 The 6-foot-9-inch forward is thankful for his opportunity to play in the NBA. He proclaimed, "It means a lot to me. The NBA has been my dream since I was a little kid and that was a great opportunity. I had fun. I enjoyed it even though it was only four minutes. That was great."
4) Deandre Ayton showed why he was the number one pick in this year's draft.
Ayton led all scorers with 24 points on 12-13 (.923) shooting, and seized eight rebounds for the Suns.
Marc Gasol had good things to say about the rookie after the game. Gasol said of Ayton, "He played with force. He is very talented and has great size. He is unselfish and read the game well from the elbow. He has a lot of tools and I like him."
The No. 1 pick it looking more and more comfortable out there each game. Ayton's line tonight: 24 points (12-13), 8 rebounds, 5 assists. pic.twitter.com/ljbY9mWxmU

— FOX Sports Arizona (@FOXSPORTSAZ) October 28, 2018

Latest posts by Sharon Brown
(see all)