Grizzlies win season opener, 103-91
In their season opener, the Grizzlies put on an incredible display of fortitude lead by starting point guard Mike Conley and the rookie Dillon Brooks.
Mike Conley lead the Grizzlies with 27 points, five rebounds, three assists and two steals.
Conley is ecstatic with multiple ball handlers on the floor with him:
"I think multiple ball handlers allows me to kind of get off the ball and rest a little bit, not have to be so ball dominant and still be able to make plays from a different position. Not handling is something I am comfortable with and I can spot up and shoot, be a decoy or set screens and whatever I gotta do to help win.
Conley went on to say, "a faster pace is good, you get a lot more opportunities and a lot more possessions."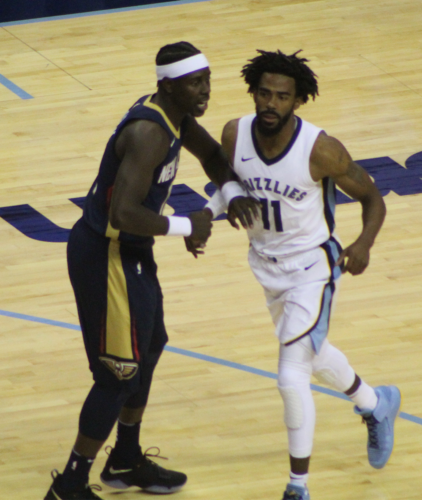 In his NBA debut, rookie Dillon Brooks chipped in 19 points on 7-of-13 shooting as a reserve. Brooks also added five rebounds and four steals.
The 45th pick in this year's NBA Draft had to shake off his nerves for his first NBA game,
"On the post fade away, I was a little scared. I was like, 'I've got to make this shot or Coach Fizz is taking me out.' But it just felt natural and I just took what the defense gave me, and my teammates just kept giving me the ball."
Brooks added,"I try to give an impact in the game on the defensive end or on the offensive end. I just try to find a way to impact the game. That's what Coach always tells me, 'Just find a way to impact the game.' I felt like I did pretty well on both sides and I was just giving it up for my team."
Brooks lead the Grizzlies bench who toppled the Pelicans bench by a margin of 53-8.
The Pac-12 Player of the Year has something to prove to teams who slighted him during the draft.
"It goes for every team. New Orleans is one of them. That was my first pre-draft workout," Brooks implied. "Just every team I go out there with a chip on my shoulder and show whoever they drafted, show that they made the wrong pick."
His teammate Mike Conley couldn't believe Brooks wasn't drafted sooner in the draft. "Man, somebody made a mistake not drafting him," Conley said. "He can play the game; he does all the little things and then some and for a rookie that's pretty good."
Brooks also received high praises from his teammate Marc Gasol. "He doesn't make many mistakes, and that's really good," said Gasol. "He's not afraid to shoot it and has a great instinct for the game. On both ends of the floor, he uses his body defensively. Really good."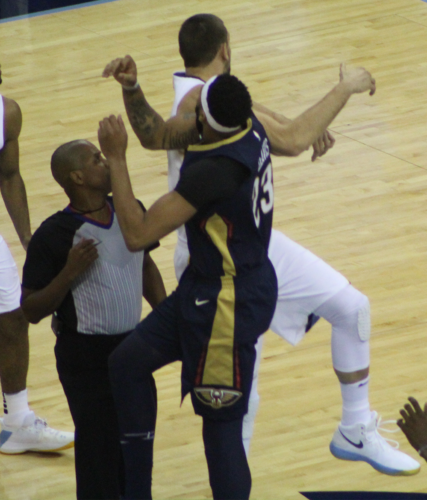 Big Spain recorded his first double-double of the season with 14 points and 11 rebounds plus three blocked shots and four dimes.
Former Grizzlies defensive stopper Tony Allen was very impressed with Brooks' outstanding play as well. "Yeah, Dillon Brooks has got a lot of TA in him", said Allen. "He's a weapon, I tell you that. We got to be [more] alert towards him next time. That last game he had (preseason), it wasn't a fluke. He is a solid player in this league."
Marc Gasol or Mike Conley were not happy that the fans were booing Chandler Parsons.
"I'm not happy with that at all. It's our players. We've got to support our players," said Gasol.
Gasol on Parsons: 
"Every single one of us. I don't think people understand. I know we are professional basketball players and all, but the support, and what that means to us when we're out there… because, he's one of us. Booing Chandler is just like booing Mike (Conley) or booing myself.

We are one team. I don't know what's going through people's minds, but we need to support him. And trust me, he's going to play a lot better if you support him. If you boo him, it's not going to help the situation much. It's the first game, so I think it's always better when the crowd supports you and it just gives you a better feeling of course."
Chandler Parsons has the full support of the team.
Gasol added, "I don't see any other way. I don't care who's out there, you need to support them because those guys go through everything. I know what the perception from the outside may be and all, but he's here, he's with us, he cares, and he wants to play well. That's all I care about. And he wants to win, so as long as he cares about the team, he's doing the right things and he has my full support."
"The fans got to give him a break, man; he's working", reiterated Conley. "I hate to see the boos so early on, that affects him, he's our teammate and we ride for him, so, you know, he's with us and he's doing great."
Parsons wasn't too happy with the boos himself.
"They can boo me, they can sarcastically cheer me, they can do whatever they want. … It's tasteless , man, it makes no sense. We're athletes, we're human beings. I don't know them personally, so, it's just a little strange to me, but that's sports."
Parsons says he will "go into every game with the mentality that it's a road game, if that's how it's going to be."
Pelicans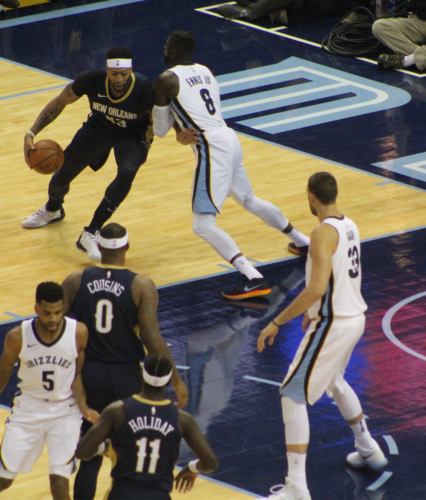 Anthony Davis led the Pelicans with 33 points and 18 rebounds while DeMarcus Cousins 28 points and 10 rebounds plus a game high 7 blocks (game high).
Welcome Back, TA!!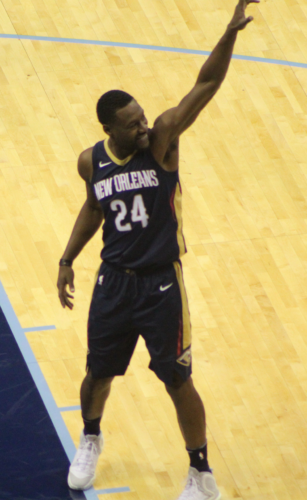 On the standing ovation:
"I had so many jitters in my body – butterflies –I mean whatever you want to call it. I was a little nervous. I'm glad they got that over with. It's a lot of love from the city, a lot of love from the fans. I appreciate that. I'm kind of hurt we lost. I wish we could have had a better outing and a better result for today's game, but for the most part, a huge respect for the organization."
On the tribute video: 
"Yeah, it kind of caught me by surprise. I looked at the thing and didn't realize I was that old. I was looking at those young TA highlights but yeah it was all special, a special moment, and like I said, I thank the organization for even just having me in their hearts. Much love to them."
On the Bongo Lady wearing his jersey:
"Bongo Lady – that's my lady. She's been TA ride or die… so much love to the Bongo Lady. Big shout out to the bongo lady."
On if it felt strange not having on a white uniform:
"Yeah, I pretty much knew all the plays and knew what they were going to run, but they executed well. They played well, and we'll see them again some time down the season and hopefully get a better outcome."
Morning tidbits:
Grizzlies color commentator Brevin Knight also weighed in on Dillon Brooks.
Knight told All Heart:
"He knows how to play the game. He doesn't have an ego and is willing to listen and learn.  "You combine that with his competitive spirit and you have the makings of a great player for years to come."
An update on JaMychal Green, who left the game with an ankle injury early in the 1st quarter: 
Sources: Memphis starter JaMychal Green's MRI on left ankle sprain returned clean, no damage, and he will likely be sidelined several weeks.

— Shams Charania (@ShamsCharania) October 19, 2017
Up next:
The Grizzlies will host the defending NBA Champions, the Golden State Warriors on Saturday, October 21st. Tip-off: 7pm CST.

Latest posts by Sharon Brown
(see all)