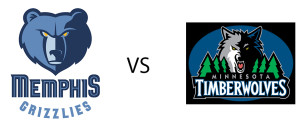 Grizzlies win at the Target Center
The Grizzlies had their best offensive output of the season with their 114-106 victory over the Timberwolves. Grizzlies shot 56.3 percent from the field while going 40-of-71. They also shot well at the three-point line 9-of-17 with 52.9 percent.
Jeff Green and Mike Conley find their grooves to help the Grizzlies deny the Timberwolves their first home win of the season.
The Grizzlies have won 19 of the past 23 games against the Timberwolves and have won 10 of the last 12 at the Target Center.
Memphis has scored 100 points in all five of their victories this season and have improved to 5-6. This is the Grizzlies first win after dropping four straight.
Game notes
The Grizzlies had six players in double figures, led by Jeff Green with a season high 21 points, four rebounds and three assists. He went 7-of 12 from the field. Mike Conley matched his season high with 20 points, seven assists and two steals. Conley made 4-of-6 three-pointers. The others: Marc Gasol (16), Mario Chalmers (16), Zach Randolph (14) and JaMychal Green (12).
The bench unit has improved in the last two games after adding Mario Chalmers via trade. With his 16 points, Chalmers also added four assists and a block. He also went 2-of-3 from beyond the arc and 10-10 from the free throw line.
JaMychal Green is a baller! He grabbed 7 boards to go along with his 12 points that matched his season and career high. Even though he wasn't credited in the box score, he caused many of the turnovers against the Timberwolves.
Zach Levine led the way for the Timberwolves with 25 points, three assists and three rebounds. He went 4-of-7 from three and started for the injured Ricky Rubio. Andrew Wiggins had a solid 21 points for the Wolves.
Thoughts
1. I liked the line up of Chalmers, Courtney Lee, Matt Barnes, JaMychal Green and Randolph. Chalmers just make the bench so much better!
2. The Grizzlies didn't take care of the ball well with 15 turnovers and didn't capitalize off of tunovers. They allowed the Timberwovles to have 24 fast break points.
3. The Grizzlies had no steals in the first half. That was unbelievable for a team that thrives on defense with zero steals. However, they did have four blocks.
4. Best offensive game of the season in which Jeff Green was the team's leading scorer. He started in the place of Courtney Lee to match the length of the Timberwolves.
The Grizzlies look to be back at .500 tomorrow night as they host the Oklahoma City Thunder at the Grindhouse for Hardwood Classics Night.

Latest posts by Sharon Brown
(see all)