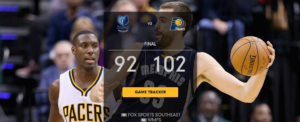 Grizzlies Outworked by Pacers
I was really worried about missing part of this game. Apparently, the team wasn't as into the game as I was…
Stats Breakdown:
Memphis: 
*Chandler Parsons is working his way back from knee injury. We knew this when we signed him to that big contract. IMO this gives him some leeway because some come back from injury more ready than others. Parsons was no doubt the biggest free agent signing in Grizzlies history. Grizz fans on average were happy to get him even if they were miffed about the amount of money he commanded. Oh how the tide has turned against Parsons since then… Grizzlies fans were looking for a savior, a shooter we so desperately needed. However, it's games like this one that continue to draw the ire of Grizz fans everywhere. Parsons had 4 points on 2-6 shooting. He went 0-2 from 3. He was a chilly -10 in a little over 19 minutes. I've been preaching patience with Parsons. I'm quite sure he doesn't WANT to suck so badly. If you expected him to come back at 100%, maybe you should adjust your expectations. This may be a case of 'wait til next year when he'll be right' before we see Parsons as what he is capable of being.
*Mike Conley had 10 points (5-9 from the field), was a disappointing 0-3 from beyond the arc, and was an atrocious 0-4 from the charity stripe. He did manage 7 assists and 5 boards for the night. Our floor general has to pick up where others fail. On this night, it didn't work out that way.
*Troy Daniels was a bright spot off the bench. In just shy of 15 minutes Daniels had a team-high 13 points (4-10 from the field, 4-7 from 3. He also had 3 steals, 2nd on the team behind the Grindfather on the night. Daniels also had the highest +/- on the team at +15, which was leaps and bounds above any of the starters for the Grizzlies. Daniels can shoot. Defense is a huge part of his lack of playing time, but at this point, we need the scoring. We have a shooter y'all. USE HIM! Seriously, I beg of you…play TD more.
Hey Coach Fizz if the pros want TD to get more minutes, I can't be completely wrong…
*Vince Carter continues to be strong off the bench with 11 points (3-6 from the field, 2-3 from 3), 3-4 from the stripe, 2 assists, 3 boards, 1 steal, and 1 block.
*Tony Allen started the game on fire. He had 9 points (4-5 from the floor, 1-1 from beyond the arc), 3 boards, and 2 of his 5 steals in the first quarter. After that, he cooled off, ending the night with 11 points, 7 rebounds, and 2 assists.
*The rest of the Grizzlies had pedestrian nights. Marc Gasol had 12 (5-15 from the field, 0-3 from 3) and was a -17, JaMychal Green had 8 and was a -3, Zach Randolph in his homecoming had 11 and 8, Toney Douglas had 6, Deyonta Davis had 1, and Andrew Harrison had 5. James Ennis played but did not score. Brandan Wright was out for personal reasons.
Pacers:
*CJ Miles led the Pacers with 17 points and was 5-9 from 3.
*Paul George brushed aside the recent trade rumors to finish with 9 points, but only went 3-12 from the field and 1-5 from beyond the arc. He did grab 5 boards, 4 assists, and a steal.
*Thad Young came back from injury with a solid 10 points (5-7) and 5 rebounds.
*Monta Ellis (we really shouldn't be surprised by this at this point) came off the bench for the Pacers and torched Memphis for 16 points.
*The Pacers snapped a 6 game losing streak in this win over Memphis.
Tidbits:
*There was a nice bright spot here with another between-the-legs pass by Marc Gasol…
*Check out Brevin Knight's mug watching this poor Grizz performance. I feel the same way BK. We all feel your pain.
*We all know +/- doesn't make a player. However, it's unsettling that the Grizzlies starters were all in the – category for the night, while every Pacers starter was a solid double digit +. In fact, only 2 Grizzlies were + (Deyonta Davis and Andrew Harrison) and they played less than 4 minutes each.
*Memphis is a disappointing 10-12 against Eastern Conference teams this season.
*We have seen this Grizzlies team rebound from tough losses with a vengeance. We have to trust that this trend will continue. With only 23 games left on the season, let's hope Grizz learn to put that foot on the pedal and don't step off.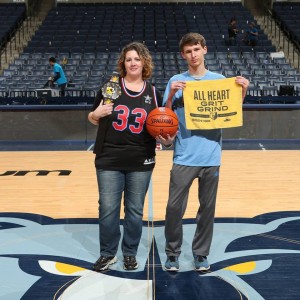 Latest posts by Elizabeth Smith
(see all)