9-1! Let's see where Grizzlies are at…
With last night's win over Detroit at FedExForum, 1/8 of Grizzlies season is in the book. Surprisingly, Grizzlies have taken 9 of their first 10 games and stand at the very top of league standings, though degree of surprise may differ from a loyal Grizz fan who remembers their schedule to a Lakers fan who doesn't know Courtney Lee is with Grizzlies. If you are a die-heart Grizzlies fan, here I interest you with some of my thoughts on where Grizzlies are at; if you're someone who doesn't know which team CLee plays for, the door is on the right.
Some standings and stats watch…
With a 9-1 records, Grizzlies own a half game advantage over second place Houston Rockets who they will square off Monday night. Considering the fact that Grizzlies sit at 2nd of last of Western Conference's Strength of Schedule right above Rockets, it's certain that easier schedule is a part of why Grizzlies have the best records in the West. Some other stats seem to support the idea that Grizzlies might not be as good as the standings shows as well, unfortunately. Their Margin of Victory is only 5.1 and it ranks 6th in the West, and with only 10 games played, they already have 4 games which results decided by 3 or fewer points, tied with Utah for most in the West. They've lost only 1 close game to a Bucks team that currently own the best Defensive Rating in the East, from that we can gather how good Grizzlies are in the clutch, but continually winning close games against mediocre to bad teams hardly seems like a gateway to success.
With a brutal schedule coming up (of the next 21 games, only 5 have an opponent without over .500 W% currently), Grizzlies will need to improve every facet of their game to storm through rest of the calendar year, which contains 3 meetings with Spurs, 3 with Rockets, 2 with Heat, 1 of each with Raptors, Clippers, Trail Blazers, Kings, Mavs, Hornets, Warriors, Bulls and Cavs. This is probably the toughest stretch in Grizzlies regular season schedule, though you can make a case for the last 14 games where they'll play only 3 games against unquestionably terrible teams. Thus, you can see the upcoming schedule as a legitimate test for this year's Grizzlies team. If they can win 13 of the brutal 21-game stretch, they will be poised to compete for the top spot in the West. If they failed to win half the stretch, their playoff chance might be in jeopardy as well. They certainly need continued productivity from core 3 and CLee, improved bench performance with Calathes back and overall consistent defensive effort to survive until New Year.
Rotation, the topic that never goes away.
It's already 1/8 of the season, but to be honest rotation still looks really cloudy for Grizzlies. Dave Joerger went with Tayshaun Prince in starting lineup last two games, likely with the intention to guard longer wings Rudy Gay and Josh Smith, but that did not go so well as Prince failed to stop opposing 3 from scoring and played abysmal offense himself. There's no doubt that Prince provides extra length and less risk-taking to starting lineup, but the spacing and offensive productivity Grizz would lose looked obvious in past two games. Putting in Courtney Lee later in the game would boost up bench scoring for sure, but starting lineup's offense has looked sticky without Lee's spacing.
Quincy's struggle to find a rhythm on offense is likely another reason for Dave to start Prince and Q might be the most struggling player on the team in this new season. Although this has been a depressing subject to be brought up again and again for 2 seasons, for a serie of reasons, Q has yet to grow into the 3-D player role that this team clearly need. I'm hoping that Nick's absence and lack of good ball-movement from bench due to that is the main reason Q, as an off-ball shooter, hasn't gotten his shots to fall. But overtime, that has started to look like my own wishful thinking. One thing to know for sure, if Q still struggles with his offense following Nick's return, his days in Memphis would be numbered. With 4 years close to $14 million left in his contract, it wouldn't be hard to find a landing spot for a guy who can crack into nba rotation and whose contract will look even cheaper as salary cap rise up drastically in the future. But as a big fan of QPon, who went to the same college as I do, I really wish he can find his groove on this Grizzlies team.
How the new Marc is doing.
Even with career low FG% at 46.3%, Marc has managed to put up highest scoring of his career at 18.5 points per game, almost 4 points up from last season, the second highest scoring of his career. Much of this big leap can be credited to his aggressiveness and improved ability to draw fouls. Through first 10 games, Marc has attempted 7.2 free throws per game, 2.7 more attempts than his career average, and his has converted 84.7% of those attempts, second highest FT% of all seasons.
Although Marc has improved his overall offensive productivity, his efficiency seems like a cause for concern. And digging into Marc's shooting stats, we can tell more about that: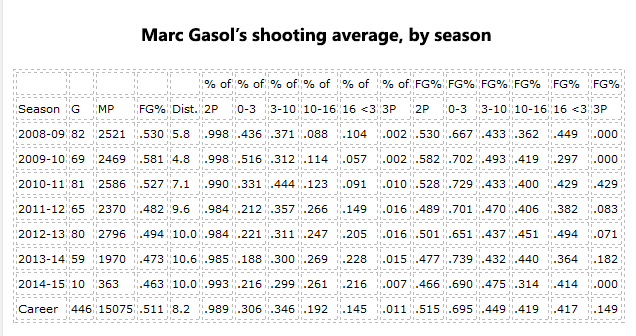 The two main shot range Marc has taken the most shots within in past 4 years is 3-10 ft. and 10-16 ft. Although Marc has been efficient as usual when it comes to shots from 3-10 ft., Marc's shots from 10-16 ft. has been underwhelming this season. The problem isn't that Marc took too many shots in this range as 2 his past 3 seasons actually had more averaged attempts within 10-16 ft.. It's just that Marc's FG% in this area has been 10% lower than his career average. It's hard to tell if he has been taking more bad shots around foul line just through numbers, but the fact that his shot selection hasn't change much from previous season seem to suggest that Marc isn't choosing his scoring approach poorly. In fact, constantly drawing fouls proves that Marc is likely scoring the right way. Maybe it's just that his short mid-range jumpers hasn't been falling, bear in mind that the sample size is still fairly small.

Latest posts by Jill Kong
(see all)