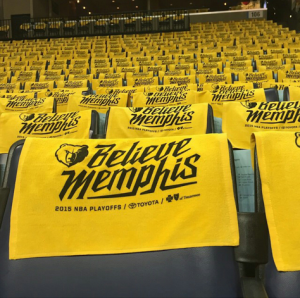 Will You Believe Memphis?
The Memphis Grizzlies will make their 6th straight playoff appearance tomorrow against the San Antonio Spurs.  That's the 3rd longest active streak in the league, and it's the 2nd longest active streak in the Western Conference.  The only teams with longer streaks are the Atlanta Hawks (9 seasons) and the team they face tomorrow, the Spurs (19 seasons).
After championship success in the NBA Summer League by the young guys, a few roster moves, securing a long-term deal with Marc Gasol and finishing preseason 6-1, it was easy for the fan base to believe that this season was going to be one of the best that this franchise has seen.  However, it has been an incredibly emotional roller-coaster from that first tip on October 28, 2015.  So, I can see how some of you find it hard to believe.
If you're reading this, you likely went on the roller-coaster with me, so I'll spare you the heartache of going over it in detail, but I will give it to you in summary:
We lost to some elite teams by some big point differentials at home and on the road.
Coach Joerger was rumored to be on the chopping block.
We made some trades early in November and some more literally minutes before the trade deadline in February.
We saw two of the core members pushed out of the starting line-up & then put back in, and ironically, those two have been the ones to lead the team through the last 2 months.
We lost so many players to injury that there were some games that we literally only had 8 players available to play.  We're just 2 players short of being able to have 2 full rosters in this one season by having 28 players to don the Beale Street Blue this year.
Even through the train wreck that this year has been (and train wreck is by no means an exaggeration), there have been some good moments:
There was the put-back of a missed Courtney Lee three in the game against Portland by former Trailblazer turned Memphis' beloved son, Zach Randolph.
We had the game in New Orleans where Marc Gasol took over like we've wanted him to for years and scored 38 points.
Remember the Jeff Green winning tip-in against Phoenix?
How about the game winning half court heave by Matt Barnes in Detroit?
How many times have we watched JAMychal Green JAM on someone in awe?
Hadn't it been great watching our rookie, Jarell Martin, develop game after game right before our eyes?
It's hard to forget that time that Vince Carter heaved a buzzer beating 3 at the end of the 3rd quarter from the opposite end of the court in the game against Minnesota.
How could you not recall the wild shot by Mario Chalmers after losing the ball and getting it back that got us the victory against Detroit at home?
We'll always remember when the Hateful Eight went in and conquered a full strength Cavaliers team in Cleveland.
Then there was that time that Tony Allen didn't miss a shot in their last game against Kobe Bryant and the Lakers.
We've seen both Matt Barnes and Zach Randolph get the first triple doubles of their careers this season.  Through all the bad, we've seen some good.
For the first time in these 6 years, I will miss a playoff game.  I will actually miss games 3 & 4.  Some of you may be thinking, so what, no big deal.  If you've never experienced a Grizzlies home playoff game in these last 6 years, I get how you don't get it.
I've never been high, but I imagine that a Grizzlies playoff home game is what it must feel like.  Your adrenaline is pumping.  Your Growl Towel is waving.  Every seat has a behind in it.  Age, race, gender, and status all go out the window; we're all one big happy family.  It's magical.  It's mystical.
So, though I'm excited about why I'm missing the games, I was sad to be missing them.  I was sad because when other folks were saying tank, I was saying "for what?!"  I was sad because I haven't seen people excited about the playoffs as they've been in past years so what if there isn't a behind in every seat this year.  I was sad because I'm a part of a fan base that understandably largely feels defeated before game 1 even tips off.  I was sad because it's hard to Believe Memphis given our reality.
Will you Believe Memphis?  Will you believe in a team that fought to stay in the playoffs after losing their starting and back-up point guards and centers to injury?  Will you believe Memphis?  Will you believe in a team that has lost some games that they were supposed to win, while also winning some games they were supposed to lose?  Will you believe Memphis?  Will you believe in a group of guys that haven't tapped out of the fight despite having a large number of people in their fan base that wanted them to tank?  Will you believe Memphis?  Will you believe in a hodgepodge group of guys that in spite of all that's ahead of and behind them this season STILL believes in themselves?
Yesterday I had the opportunity to go to the team's practice.  What I saw made me happy.  What I heard gave me hope.  Not one player on that practice court looked defeated.  There's a camaraderie among them.   There was mentoring & confidence building by the vets to the younger guys.  Whether they win or lose in this series, this team has already made history this year.  They made history as not only the first team to have 28 players on their roster in a single season, but as a team to have 28 players on their roster in a single season and still make the playoffs.  As we prepare to watch Game 1 of the series tomorrow, I'll leave you with a quote from future Hall of Famer Vince Carter regarding this series and one last question.
"We have to come up with a remedy that works for us, stick to it, and believe it.  It's a lot of pride on this team." ~Vince Carter
After all we've seen while riding on this roller-coaster of a season together…Will You Believe Memphis?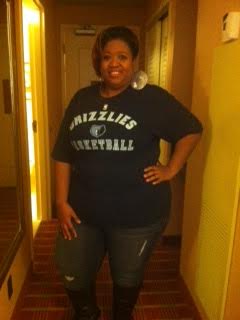 Latest posts by Carmen Patton
(see all)