The Grizzlies Fall at Home to the Mavericks in OT
The Memphis Grizzlies were on a five game winning streak when they returned home to face the Dallas Mavericks on Saturday night.  It was their first SEGABABA of 2016.  They were 7-2 in SEGABABAs prior to Saturday night's game against the Mavericks, and were 19-7 at home.  They are now 7-3 in SEGABABAs and 19-8 at home after falling to the Mavericks in overtime, 114-110.  The Grizzlies did a lot of things correctly in this game, in spite of the loss.  On paper, their stats seemingly would have led to a win.  They did have some critical errors as well though.
What the Grizzlies Did Right:
The Grizzlies took the same amount of shots as the Mavericks (88) and made 6 more connecting on 50% of their shots.
With the exception of Tony Allen who didn't attempt a shot, all of the starters scored in double digits.  Marc Gasol led all Grizzlies scorers with 22 points.  Zach Randolph had a double double with 20 points and 14 rebounds.  Mike Conley had 16 points, and Courtney Lee had 10 points.
The Grizzlies bench outscored the Mavericks bench 42 to 36.  Matt Barnes led the Grizzlies bench scorers with 17 points, connecting on 5 of 7 three point attempts.  Mario Chalmers contributed 12 points.  Jeff Green, who had a string of 20+ point games, contributed 9 points, and Ryan Hollins contributed 4 points.  Vince Carter played, attempted 2 shots, but didn't score.
The Grizzlies led in Rebounds with 51 to the Mavericks 42.
The Grizzlies led in Points in the Paint, with 56 to 26.
The Grizzlies connected on almost 40% of their 3 point attempts, going 9/23.
What the Grizzlies Didn't Do So Right:
The Grizzlies made only 13 of their 23 free throw attempts.  Ryan Hollins was the only player that managed to connect on all attempts.
The Grizzlies only forced 6 turnovers and converted them to 9 points, but they gave up 11 turnovers for 14 Mavericks points.
The loss puts the Mavericks ahead 2-1 in the season series.  The teams next face each other on April 8 in Dallas.  The Grizzlies are still 2.5 games ahead of the Mavericks in the Western Conference (5th place), but they're now 4 games behind the Los Angeles Clippers.  They still maintain the 7th best record in the league.
The Grizzlies have one more home game before the All Star Break on Monday against the Trailblazers, and an away game on Wednesday against Brooklyn.  Hopefully, they will close out with 2 more wins before the break.  Go Grizz!!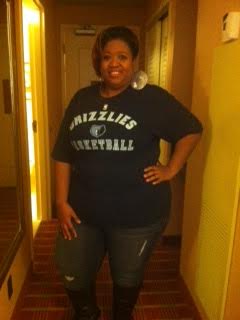 Latest posts by Carmen Patton
(see all)