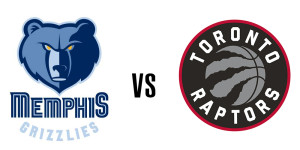 The Grind is not enough against the Raptors
The Grizzlies fought until the end, but the Raptors came out on top 99-95. It was a game the Grizzlies needed in order to keep the positioning they want for the post season.
The Grizzlies are currently in fifth place in the West and just only a single game ahead of the Portland Trail Blazers. It will be drastically difficult for the Grizzlies with only six games left in the season. They are literally fighting for their playoff lives.
Zach Randolph is still dealing with an ankle injury and he's trying to carry the load. In this game, the Grizzlies bench outscored the starters 52-43. All five Grizzlies reserves that played finished with a +/- rating of +7 or better; however all five starters finished with a negative +/- rating.
After the game Dave Joerger said,
"My heart breaks. I thought we played hard enough to win and these guys deserve the reward they have been working their tails off for and that's the hardest part for me. They are sticking together through a lot of adversity and I'm proud of them."
Stats of the Game:
Field Goal Percentage: Grizzlies 40.7 percent (37/91), Raptors 42.3 percent (30/71).
Rebounds: Grizzlies 42 (18 OREB), Raptors 41 (11 OREB)
Points in the Paint: 38 Grizzlies, Raptors 26
Fast Break Points: Grizzlies 12, Raptors 15
Three Point Field Goals: Grizzlies 36.8 percent (7/19), Raptors 42.9 percent (12/28)
Bench Points: Grizzlies 52, Raptors 19
Steals: Grizzlies 13, Raptors 9
Highlights
Players Notes
Grizzlies
Zach Randolph led the Grizzlies with 16 points, four rebounds and three assists.
Jordan Farmar chipped in 12 points, two assists and two steals.
Xavier Munford had a career high 12 points and three assists.
Lance Stephenson finished with 12 points, four assists and three rebounds.
Raptors
DeMar Derozan led all scorers with 27 points. He also grabbed six rebounds and four assists.
Kyle Lowry notched 22 points.
Norman Powell had a perfect night from the field; he went 4-of-4. Powell finished with 14 points, five assists and two steals.
Jonas Valanciunas added 11 points and 14 rebounds for his 20th double-double of the season. He also had a game-high seven blocks along with three steals.
Interesting Stats
The @memgrizz shot 10-for-10 during their 22-7 start to the second quarter.

— Ross Wooden (@RossWooden) April 2, 2016
All about Mario!!
Mario Chalmers made his first appearance back to the FedEx Forum since his season ending injury and release from the team. He had a warm welcome from the fans.
Mario Chalmers just left the locker room, wheeling along on one leg, accompanied by Mike Conley, still in a walking boot. #achillesheel

— Peter Edmiston (@peteredmiston) April 2, 2016
Thoughts
It's going to be rough for the Grizzlies with just six games remaining in the regular season. Their playoffs hopes are quickly fading after losing five straight games. They just have to continue to play hard and stay the course.
This team must get more from their starters, especially Matt Barnes. Barnes has been in a slump. It is not like he's not playing hard; he's just can't make shots at this time. And the losing may be frustrated to him. I don't know if his increased role has something to do with his slump.
Joerger needs to do a better job of riding the guys who are putting it all out there on the floor. The bench just out-played the starters last night. Maybe Joerger should have relied on them more at the end of the game.
Going forward they need to play hard and flat out win. If they don't do that, they're playoffs hope will go out of the window. They still have a chance but, it's very slim. But they know they must keep it together and grind! #DontStopBelieving!!
Up Next:
The Grizzlies travel to Orlando to take on the Magic. Tip-Off is at 5 PM CT.

Co Owner and Founding Editor of All Heart in Hoop City

Latest posts by Sharon Brown (see all)