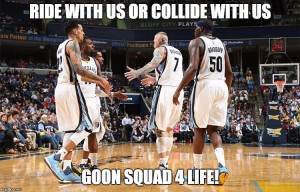 Z-Bo gives the Jazz the blues on Beale Street
The Memphis Grizzlies (31-24) defeated the Utah Jazz (28-33) on Friday night 94-88 at the Grindhouse. The Grizzlies are currently 13 games over .500.
The game started off slow for the Grizzlies and it seemed as the Jazz had their number again. The Grizzlies were down 24-10. Then enters the bench unit lead by Mario Chalmers and Lance Stephenson. They moved the ball well and made opened shots and helped the Grizzlies get back in the game and eventually win it.
Post Game Quotes can be found here.
Stats of the Game:
Field Goal Percentage:  Grizzlies 45.7 percent (37/81), Jazz  42.7 percent (32/75).
Rebounds: Grizzlies 42 (9 OREB), Jazz 45 (12 OREB)
Points in the Paint: Grizzlies 58 (29/52), Jazz 40 (20/39)
Fast Break Points: Grizzlies 9 (3/9) , Jazz 14 (4/7)
Three Point Field Goals: Grizzlies 22.2 percent (4/18), Jazz 26.3 percent (5/19)
Bench Points: Grizzlies 44, Jazz 23
Steals: Grizzlies 8, Jazz 6
Player Notes
Grizzlies had four players in double figures
Zach Randolph finished with a game high 25 points (9-of-18) and grabbed 8 rebounds.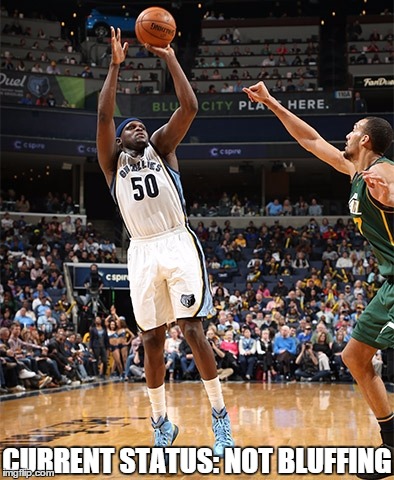 Lance Stephenson added 16 points (8-of-11) and five rebounds off the bench.
Mike Conley scored 12 points (4-of-13), four assists and two rebounds.

Mario Chalmers chipped in 11 points (4-of-8), six rebounds, five assists, five steals and two blocks also off the bench. Rio had a team high +/- with a +32!!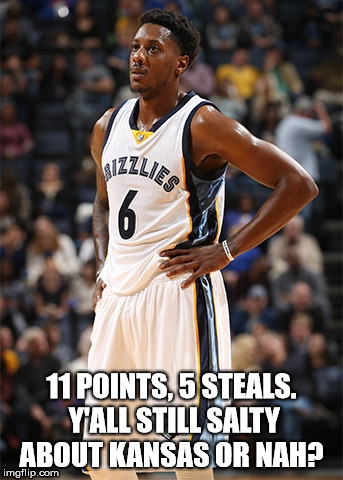 Jazz also had four players in double figures:
Gordon Hayward led the Jazz with 18 points (7-of-12), six rebounds, two assists and two steals.
Derrick Favors chipped in 14 points (7-of-17) and three rebounds.

Shelvin Mack added 12 points (4-of-9), eight assists, five rebounds and two steals.
Rudy Gobert finished with his 16th double-double of the season. He had 13 points (3-of-5), 18 rebounds and five blocks.

Highlights:
Thoughts:
1. Grizz Nation really loves Z-Bo!! He's been coming through for this team since he's been here.
2. The Grizzlies bench is something special. JaMychal Green, Mario Chalmers and Lance Stephenson have that real all heart..grit..grind that we've all loved since the Grindfather himself proclaimed it years ago.
3. When the PA system went out, the fans came through for the home team!!
Interesting Stats:
Up Next:
The Grizzlies will host the Phoenix Suns in a early game on Sunday at the Grindhouse. Tip-Off is at 3pm CST. Payback will be on the Grizzlies mind!!