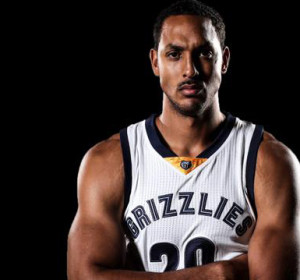 Ryan Hollins to Join Grizzlies Training Camp Roster
Yesterday the Grizzlies managed to be the center of our attention when they announced that they were signing Ryan Hollins to a non-guaranteed veteran minimum contract for training camp. Right now the Grizzlies 15-man roster is already filled out. This means that Hollins will have to prove his worth and oust a current PF-C potential backup. Don't forget that the Grizzlies signed Brandan Wright earlier this summer, taking up Kosta Koufas' spot as the backup center, but have yet to fill the vacancy Jon Leuer's departure left at the Number 2 backup. This means that whoever gets the roster spot is going to be providing some needed additional depth around the post.
Here's a quick get to know you on Ryan Hollins. He's been in the league since 2006 and last played for the Sacramento Kings.  Over his career, he averages a shooting percentage of 58.1%, 2.2 rebounds per game and scores 3.7 points per game. Last year in Sacramento he played an average of 9.6 minutes, shot 64.6%, grabbed 2.2 rebounds and scored 3 points. While his numbers don't boast a player that makes a substantial impact, he could fill a hole the Grizzlies currently have in their roster. If you don't have anything else to do here's a higlight reel that shows just how well the man can dunk.
The signing is not that suprising when you think about the fact that Jarell Martin injured his foot earlier this month and underwent surgery. There was no timetable given for his return and while Jarnell Stokes and JaMychal Green have had some solid play, Hollins veteran stability could prove valuable to the team down low. Stay tuned, the Grizzlies have until October 27th to make their final roster cuts and we'll be here keeping you posted!
*All stats taken from basketball-reference.com*

Latest posts by Tabitha Smith
(see all)