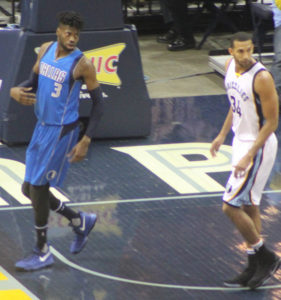 In the Regular Season Finale, Grizzlies Fall to the Mavericks 100-93
The Grizzlies fall to the Mavericks 100-93 in the regular season finale. With no disrespect to the Mavs, the Grizzlies minds were strictly on the San Antonio Spurs whom they will face in the NBA Playoffs. The Spurs (2) will host the Grizzlies (7) on Saturday in San Antonio for Game 1 in the first round series. A repeat of the 2015-2016 first round series.
Quibbles from the Grizzlies' 100-93 loss to the Mavs
1. No starter for the Grizzlies played more than 25 minutes in the game. Tony Allen only played six minutes due to a lower leg injury.
2. Mike Conley played 17 minutes and ended with 15 points (5-of-9 FG), two assists and two rebounds. Conley only had the highest plus/minus for the Grizzlies with plus 11.
3. Zach Randolph led the bench unit with 15 points while going 7-of-14 from the field. Also Zbo grabbed seven boards and two dimes.
4. Marc Gasol was the only other starter in double figures. In 24 minutes of play, he finished with 13 points, eight rebounds, four assists and two blocks.
5. Stats of the game: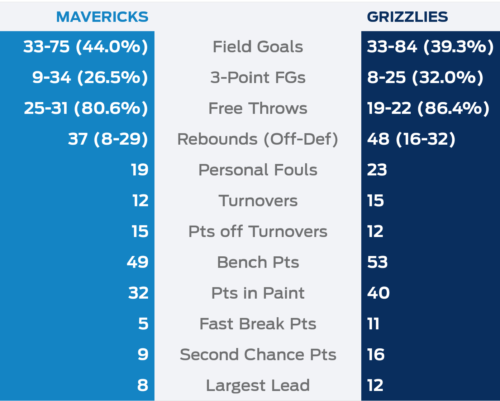 6. The Mavericks had five players in double figures led by Nicolas Brussino and Devin Harris with 15 points a piece. Dwight Powell added 12, Jarrod Uthoff chipped 11 and Nerlens Noel finished with 10.
Quotables
David Fizdale
On his first season as a head coach:
"I feel like I learned a lot. Through good stuff and through some hard lessons. I was really trying to be open-minded about this year and really challenge myself and push myself to grow. I felt like that happened and I couldn't have done it without that group of guys that's in there. It really helped me. It really pushed me to be a better coach. I think a lot of circumstances this year pushed me to be a better coach.
Whether I made the right decision or not I tried to learn from them. It was a fun year for me. I can't believe it's already 82 games. This thing went fast, but it's my favorite time of year, playoffs. It's an honor to be in the playoffs, when you make the playoffs. 16 teams. Our team is honored to be there and I think we will display it with our effort."
On what the playoffs mean to him:
"For us and Memphis, this is our time to show what we got. We don't really get the national attention and we float under the radar for a long time. Playoffs are normally that time when everybody wakes up and says, 'Alright, Memphis is pretty good. They're a team to be reckoned with.' We take pride in that and we're excited for the challenge against the Spurs."
On people doubting the Grizzlies:
"This team we have here has been through everything together, especially the vets. We've been through the good and the bad. We've overcome a lot even with people having the odds against us. We're going to give our best and we're definitely confident that we can win."

Co Owner and Founding Editor of All Heart in Hoop City

Latest posts by Sharon Brown (see all)