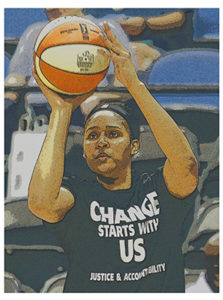 Real Talk: WNBA Players Take a United Stand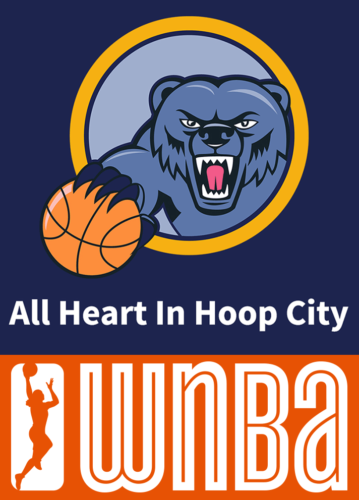 Social activism has been something athletes have often shied away from. But in recent years, some athletes have not been afraid to speak out and take a stand regardless of consequences and repercussions. Players from the WNBA have made their voices heard loud and clear.
"We do not, in any way, condone violence against the men and women who serve on our police force. Senseless violence and retaliation will not bring us peace. One aspect of our team's culture is accountability. It's kept us strong over the years. We, as leaders, try to hold ourselves and each other accountable as an organization.

We, as a community, especially our leaders, have accountability in owning our weaknesses and really humble ourselves to realize the conviction that we must improve the realities of justice, freedom and safety for all people. This is a human issue and we need to speak out for change together."- Maya Moore, Minnesota Lynx
After the Lynx made their statement, other WNBA teams followed in some fashion. The New York Liberty, the Indiana Fever, and the Phoenix Mercury all wore black warm up shirts in solidarity.
The WNBA fined the Fever, Liberty, and Mercury $5,000 each and fined each player on those teams $500 for wearing the black shirts for a uniform violations.
The fines did not sit well with the players of those teams. Many players refused to answer questions after their games — they only spoke about Black Lives Matter or other social issues.
The WNBA eventually rescinded the fines after scrutiny from its players and the public.
Appreciate our players expressing themselves on matters important to them. Rescinding imposed fines to show them even more support.

— WNBAPrez (@WNBAPrez) July 23, 2016
Recently, I assembled a group of women who cover the NBA to weigh in on the social activism of the players of the WNBA and the fines levied by the league.
1) What were your thoughts when you first heard about the fines the WNBA levied to some teams and the players?
Brittany Johnson — News Producer & Social Media Correspondent for Real Sports Live
My initial reaction when I first heard about the fines the WNBA levied to some of the teams and players, was anger. How can you fine someone for freedom of speech? Why are these women receiving a fine for standing up for what they believe is the right thing to do? But surprisingly, my anger quickly shifted to a feeling of joviality. To me, imposing a fine is the best thing that could have happened. After it was imposed, more attention was brought to the WNBA, which gave the women an even larger platform to express their opinion.
The players were able to express their frustrations, and more of why they chose to raise awareness for BLM through social media platforms. I mean, before the WNBA imposed the fine were you even aware that the players came together to support the BLM movement? Did you even realize the WNBA was in the middle of the season? Probably not, but now you know. I'm not saying I agree with the fine at all, but it did get you paying attention right?
Rachael Hoops — Full-time Basketball Junkie
I was extremely shocked. My first reaction was both confusion and anger. I remember seeing photographs of the shirts which warranted the fines – specifically the Minnesota Lynx – and their shirts celebrated police as well as Black Lives Matter.
It appeared to me as if the WNBA was picking and choosing causes to support, being as the league allowed teams to wear the t-shirts honoring the Orlando mass shooting victims, but were not okay with anything connected to the BLM movement.
Jameelah Johnson — Freelance Journalist
@JameelahJNBA
I was shocked to read that the WNBA fined players. When I first saw the news of the different teams and players standing up for the community, I was proud. I was proud of them for being unafraid to show that they wanted unity and doing so in such a way that would get the word out. I thought to myself, "This is great for the WNBA.
The players are able to take a stand, and making a conscious effort to do just that." With these sentiments, I took the news of the fines with utmost disappointment. I couldn't believe that action was being taken because it seemed like the league wanted to silence the players.
Aimee Stiegemeyer — Writer and Editor, All Heart in Hoop City
It seemed like there was an inconsistency in how the uniform policy was enforced, insofar as the warm-up gear was concerned. This wasn't the first time in recent memory that members of a WNBA team had worn an alternate warm-up shirt to use their visibility to promote a message of social justice and tribute to victims of violent crime, and had previously done so without recrimination.
Earlier in the regular NBA season, a number of players chose to wear an alternate warm-up shirt for the same reasons, and they did so without facing a penalty from the league, so there is already a precedent set for such displays being allowed and accepted.
I'm not entirely sure how closely the two leagues are connected but one would presume based on the recent joint media campaigns, ironically enough to encourage men to "lean in" to help the women in their lives succeed both personally and professionally, that the policies and responses would be the same.
Throw in that it occurred just a few days after four of the most high profile NBA stars had taken the stage during the opening portion of the ESPY awards to address the audience and make a specific statement regarding the recent acts violence against citizens and law enforcement officers alike, made it seem in especially poor form in part of the league.
I was also disappointed with how it was handled publicly, after four off-duty officers from Minneapolis Police Department who had been hired to work security for a Lynx game, walked off and abandoned their assignments in response to Lynx players wearing the alternate warm-up shirts and for pregame statements denouncing the recent violence. I am troubled by the attitude of the police union in regards to the officers' actions, and the blatant double standard at work.  So far no one has really addressed that, it's kind of been the elephant in the room. There is no way those officers would have responded in the same way to NBA players, under the same circumstances.
2) Did it surprise you how the players responded after the league's controversial decision?
BJ: I was not surprised by how the players responded. The action taken was very effective. Not only did the players risk financial backlash, they also put their careers on the line. Their response should be commended. When was the last time multiple teams, or an entire team, stood together as one for a social issue?
I remember the Lakers wearing 'I Can't Breath' shirts back in 2014 to raise awareness for BLM after the death of Eric Garner. I of course applaud the team for taking a stance, but that did not have as much of an effect as the WNBA movement, because not just one team protested, multiple teams were on board. To me, the best response from the players was taking a stance in the locker room and refusing to answer post-game questions to reporters, unless they were asked about social issues.
That was one of the best moves they could have made, and I believe that was a game-changer in the fines being rescinded from the WNBA's President, Lisa Borders. Throughout the entire ordeal, the players acted with class and dignity and were able to get their point across.
RH: I did expect the players to be angry. That anger was warranted. I can imagine they felt silenced, and possibly even interpreted the league's fines as saying that black lives did not matter. I was surprised, and extremely proud at the player's decision to stage a media blackout. I thought it was a powerful statement and a protest that enabled the players to educate the media about social issues important to them.
JJ: It did not at all surprise me. I've been following many WNBA players and find them to be amazing at taking a stand for what they support and not backing down from anything. Many players are vocal and don't hold back from speaking their minds, especially when faced with major injustices.
AS: In the immediate days following the announcement of the fines, several NBA players spoke out against the action and in defense of their WNBA counterparts. Carmelo Anthony comes to mind as being especially outgoing in his defense, which is no surprise when you consider how outspoken he has been regarding using his position to raise awareness and promote an ongoing dialogue between civilians and law enforcement.
3) Do you think the NBA players should have been more vocal in supporting the WNBA players for taking a stand?
BJ: Let's not be so quick to point the finger. Social issues aren't meant for everyone to tackle. If athletes don't know enough about the issue, and are little informed, they shouldn't be speaking out. To me, that's how the message becomes watered down. It's no secret that the world only starts to pay attention when you have athletes (and other public figures) to the magnitude of Michael Jordan, LeBron James, Dwyane Wade, Carmelo Anthony and Chris Paul speaking out. The NBA is doing their part too, but right now, their actions are more individual based.
Also, a lot of these men are being vocal in supporting the WNBA, but their actions just aren't the headline of the paper you're reading. One player that always stands out to me is Carmelo Anthony. For years this man has been out marching in the streets and holding private meetings, trying to figure out how to put a stop to the violence. Don't just scroll down your Twitter timeline and assume that just because you're not seeing a #BlackLivesMatter from your favorite athlete, that work isn't being done. We have to stop looking to athletes to start a movement, or tackle social issues. It starts with us.
RH: Carmelo Anthony, Chris Paul, Dwyane Wade and Lebron James recently gave a very powerful speech at the ESPYs imploring athletes to use their platforms to speak out on social issues. However, only one of them seemed to take their own advice in this instance. To my knowledge, Carmelo Anthony was one (if not the only) NBA player to publicly criticize the WNBA for fining the players. I believe fear might have been a factor that kept some NBA players from speaking up; fear of public backlash or of their own fines. I do wish more support would have been shown.
JJ: I'll say it was refreshing to see the NBA players who actually did take the time to post about the fines and/or post their support of the players. There are some NBA players known for their activism, so their remarks came as no surprise but the others who spoke up were a pleasant surprise. I truly feel as though many professional athletes are becoming more comfortable with their platforms and using the power and influence they have for societal good.
AS: As I said above, I think there response was swift and supportive and I have no issues with how any of the players in either league have responded. I see it more as an issue where the leagues need to clarify policies and be consistent in their enforcement.
4) WNBA president Lisa Borders rescinded the fines after scrutiny.  Do you think the backlash and negative publicity played a role in her decision?
BJ: Lisa Borders is a black woman. Her grandfather was a leader in the Civil Rights Movement. I don't think she wanted to impose a fine in the first place. But, she's running a business. The WNBA has a hard time already selling out arenas. Do you really think ticket sales are going to skyrocket when you have the WNBA, which is 70 percent black, protesting about black lives? Absolutely not! The average ticket buyer doesn't want to spend their money to come watch a game filled with protests. If they're coming to the game, it's for that reason only, to watch the game.
I simply think the players outsmarted the President of the WNBA, that's why the fines were rescinded. Lisa Borders was playing checkers while the WNBA players were playing chess.
RH: There is no doubt in my mind that the fines were rescinded purely due to public outcry. While I'm glad they rescinded the fines, I believe the damage has already been done. I look at the WNBA different now, and don't believe they truly support their players. Instead of showing empathy and support, they attempted to silence them. In doing so, the WNBA implied that they don't believe black lives matter. That remains the most disturbing part for me.
JJ: I definitely think the outpouring support from those in favor of the WNBA players speaking up had every bit of an impact on the fines being rescinded. I believe the power of publicity and strength in numbers had to directly affect the decision.
AS: Absolutely, I think it did. I also think that it was plain just the right thing to do to rescind the fines, I don't think they ever should have issued in the first place, so to that end I was glad to see such a fast response in making the situation right.

Latest posts by Sharon Brown
(see all)