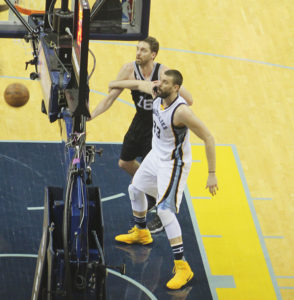 Real Talk with the ladies of AHHC
The ladies of AHHC came together to give their thoughts on the Grizzlies vs Spurs Game 4, the Grizzlies role players and more. Tabitha Smith, Aimee Stiegemeyer, Carmen Patton, Sharon Brown and Elizabeth Smith share their analysis.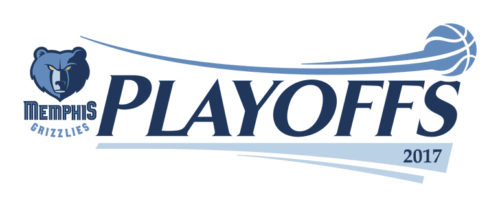 1) Game 4 is said to be an instant classic, what are your thoughts?
Tabitha: There is no doubt that Game 4 is going to be a classic. It was the absolute epitome of Grizzlies basketball. It was gritty, it was heart stopping, and there was never a dull moment. Memphis had a 10-point lead in the fourth quarter and it took overtime to seal the win. Marc Gasol hitting the game winner with 0.7 seconds left was the perfect way to end the game. When fans are talking about the 2011 series, there isn't even a question that Game 4 was a classic. Game 4 was a grind, and is there anything more classic as that?
Aimee: It was easily one of the greatest and most stressful basketball games I have ever watched. Being in the building, the energy was incredible. Playoff time in the Grindhouse is always special, but the intensity of the game amplified that to another level.
Carmen: Game 4 was everything you want playoff basketball to be. I don't like games where one team completely dominates another. I like balanced play where the hungrier team wins. That's what Game 4 was.
In what universe do you have 22 turnovers, shoot 15 fewer shots, have
Kawhi Leonard
score 43 points on you and still manage to win?! Like how does that happen?! That game was crazy good. I could watch it over & over & I was there live & in living color. Who am I kidding?! I have watched it over & over.
Sharon: It was great to watch, especially in the final frame of the regular period and in overtime. To watch Mike Conley and Kawhi Leonard do amazing things was absolutely jaw dropping. The rest of the NBA saw that this series deserves attention. Before the series started, I read tweets from people talking about how boring the series would be. Game 4, made a believer out of those same people. It is dubbed by many as the best game of the playoffs so far. I truly the remaining games won't disappoint many and will continue to live up to the hype.
Elizabeth: Game 4 was everything I hoped it would be and more. The team came out focused & played hard. They competed for 48 minutes. Despite the turnovers, both forced and unforced, Memphis kept working. The role players stepped up in a huge way. James Ennis channeled all his energy into slowing down (because there really is no way to stop) Kawhi Leonard. Andrew Harrison, the whipping boy for Grizz fans everywhere, stepped up in a huge way with that never-say-die chase down and block on Patty Mills reminiscent of the LeBron James block on Igoudala in Finals Game 7 last year.
Despite a superhuman effort by MVP candidate Leonard and a throwback game by
Tony Parker
, the Grizz still prevailed. How many times do you see a Grizzlies game that even people that never watch the Grizz are raving about? Not often enough. This game was one for the ages.
2) The role players stepped up big time in Game 4, how important is that for the team?
Tabitha: It's not just important, it's imperative. Coach Pop even mentioned that this is a series that doesn't allow for mistakes. There is not a lot of room for error on either side of the court. There is not room for one or two guys to play well; it has to be across the entire team. Our role players set the tone. It seems they have their coach's back and are ready to play with all their heart.
Aimee: It was huge, I'd even go so far as to say it was the difference maker. That chase down block by Andrew Harrison against Patty Mills with a little over a minute and a half left in OT, AND making both his free throws a minute later? Harrison was the epitome of clutch in those last 90 seconds.
Carmen: Having them step up is crucial to the success of this team. It makes things much easier for everyone when they all are stepping up.
Andrew Harrison was BIG, HUGE. I'm hoping that game gave him the confidence that he needs. I'm also hoping that fans see he's improved from that deer we saw caught in headlights in October.
JaMychal Green
has been great coming off the bench in this series. I think the pressure of starting against the 2nd best team in the league on such a national stage was lifted. He seems to be playing freely & easily.
And I'm guessing
Troy Daniels
just needed that hometown love to get that ball through the net.
Sharon: Unequivocally important to say the least. It is vital for them to contribute in order for the Grizzlies to win the series. JaMychal Green had his best game of the series and hopefully it will carry over going forward. Troy Daniels finally was able to connect with two three point shots, maybe that helped his confidence for the upcoming games. Andrew Harrison had the block of his career. Seems like they are not intimidated anymore and it's a great thing.
Elizabeth: The role players MUST step up for the Grizzlies. In this game, they not only stepped up, they showed out. That Harrison block had me out of my seat. Ennis put everything he had into slowing down Kawhi. JaMychal Green came off the bench and had a cool 14 in Game 4. Troy Daniels hitting from beyond the arc was huge for us. If Memphis hopes to continue to shock the pundits and topple the almighty Spurs, they must continue the trend. They have to give the starters some time to breathe without the game slipping away completely. The role players stepped up at home. Now hopefully they have developed the confidence that will translate to the road.
3) Did you expect an even series at this point?
Tabitha: After watching the first two games I honestly have to say I wasn't sure we would be able to even the series up. However, after Game 3 I would have been truly disappointed if the series wasn't even right now. This series has turned into exactly what I expected and wanted for a Grizzlies-Spurs playoffs. It's been hard fought, up and down, and at this point anything can happen.
Aimee: I was trying to avoid setting any firm expectations. My heart wants to say yes, but my head is saying no. It's not that I don't believe in our team, but this is the Spurs we're talking about. I don't think I need to remind y'all how they did us in the first round last year.
Carmen: I did. I was called crazy, a homer, silly…all sorts of things. I didn't see the blowouts. I saw more balanced play like we saw in Game 4. But I expected the two teams to do what they've done all season against each other…take care of their home court. 

Sharon: Yes, I expected it to be an even series. I just didn't expect it to play out like it did. I thought all the games would be hard fought and would come down to the final possessions. But I expect a dogfight from here on out.
Elizabeth: My heart originally said Grizz in 6 even as my head was screaming Spurs in 6. I guess you could say I expected an even field at this point. I said from the beginning that I wasn't as scared of the Spurs as I once was. Games 1 and 2 had me a bit nervous again. However, in Game 3, Grizz came out swinging. They continued that in Game 4. Memphis has proven to the masses that they are capable of beating the mighty Spurs. More importantly, they have proven that fact to themselves.
4) Have your prediction for the series changed?
Tabitha: I have more hope right now. If Memphis can take Game 5, they have a chance to win this. If the stat of the season remains true, each team will win their home games and Memphis will be ousted in the first round. I'll be the first to admit, I thought there was a pretty good chance we would only win one game. Not because I don't believe in this team but because the team was not playing with heart. If Memphis can continue to play with the same passion and consistency that they did in Game 3 and Game 4 they have the opportunity to move to the second round. It will not be easy. However, if the Grizzlies are great at anything it's rising up and being more than we expect when they need to be.
Aimee: Yeah, I think maybe it has. Starting to get the feeling that this series is going to 7 games and will be a bloodbath. Not ready to predict a final outcome yet, I'd like to see how things go when the Grizzlies are back in hostile territory tonight.
Carmen: No, it hasn't. I knew this series would go at least six games & possibly to seven. My thought was if the Grizz were able to steal Game 5, you can count it done in Game 6 at home. If not, they push it to Game 7 & each home team does what each home team has done. We shall see. I'm enjoying watching all this back peddling that the doubters are doing though, especially the ones in THIS fan base that thought they would get swept.

Sharon: No it hasn't changed. I predicted the Grizzlies would take the series in six. I expect a win from the Grizzlies tonight and close it out at home on Thursday. Maybe, I am wrong but I believed the Grizzlies had the goods to win it.
Elizabeth: Honestly the way Memphis has played for the last two games has given me even more hope. They have taken everything that San Antonio has been able to throw at them (looking at you Kawhi) and then some. I'm leaning more toward Grizz in 7 now. #BelieveMemphis

Latest posts by Sharon Brown
(see all)