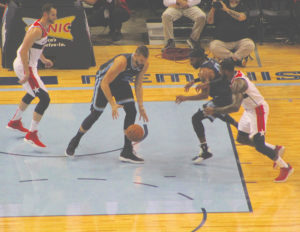 In Shy's Corner: Four takeaways from the Grizzlies victory over the Wizards
Four takeaways from the Grizzlies victory over the Wizards, 107–95.
1) Defense
Seven different Grizzlies logged a steal in the game. Marc Gasol (5) and Kyle Anderson (4) combined for nine steals. The five steals from Gasol ties his career-high.
Memphis forced a season-high tying 20 turnovers, which included a season-high 16 steals. The team has recorded fewer turnovers than its opponent in all six of its games this season.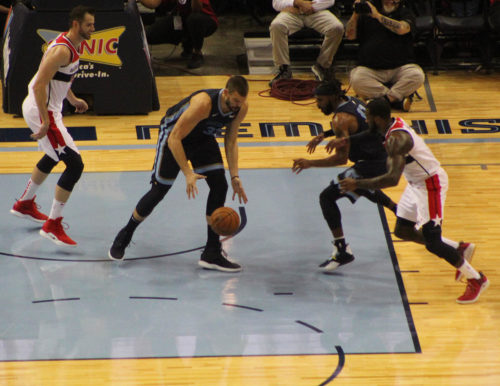 After the game, Grizzlies' guard Shelvin Mack talked about the defense. He said, "The coaches gave us a game plan. We were able to take that from practice and translate it, especially with our last game being Saturday, we had two days to prepare for [Washington]. Everyone is locked in, and we're trying to take away their tendencies."
Garrett Temple explained what worked for the Grizzlies against the Wizards. The LSU alum said, "defending, continuing to defend, knowing what they wanted — quick. We did a great job scouting them, and we knew what they wanted to do. Trying to take them out of that, force them into shots that were lower contending shots for them. We did a better job rebounding, didn't turn it over as much, and got out and ran in transition."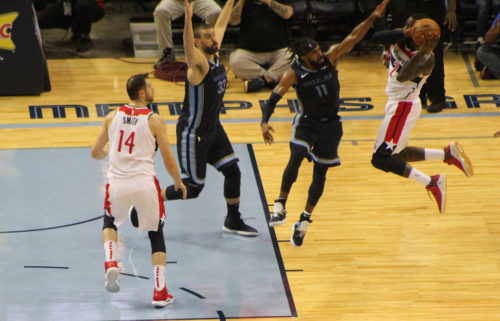 2) Kyle Anderson and Shelvin Mack
Off the bench, Shelvin Mack scored 14 points and a game-high eight assists. Mack knows his role and tries to help Mike Conley as much as he can. "Mike [Conley] does so much for the team, sometimes he needs a break offensively with dribbling and bringing the ball up the court, said Mack.
He went on to say, "I think I'm able to bring that and provide that. I think both of us being high basketball IQ players, that just makes it easy."
Conley is glad to have a guy like Mack on his team. " Shelvin [Mack] is about as solid as a player you could ask for," Conley proclaimed. "He knows how to get you the ball, knows how to play off the ball and he's just a good basketball player. I think we compliment each other."
Conley concluded, "he's helping me, and saying let's try this and try that. It is great to have a guy that have the experience that he has. He has a great background and knows the game well."
Anderson also had a good game. He grabbed a game-high 11 rebounds while scoring five points. Defense is his game and he was brought here for his defensive prowess.
When asked about scoring, Anderson said he can get a little more aggressive. He implied, "It has never really been one of my things — just try to impact the games in other ways [defensively]."
3) One-minded team (depth)
One team, one goal has been a tradition with this team for a while now. On any given night, this team has guys who can step up to take the reigns and Mike Conley loves that.
"We have different guys who can score 20 or 30 points for us every other night. I happy at we have done so far," he proclaimed. "Guys like Garrett [Temple], Shelvin [Mack], JJ [Jaren Jackson, Jr.] , everybody has stepped certain times this season so far. Marc and I feel like we haven't played all that well yet and once we get clicking it makes it easier on everybody else and we are excited at what go going."
Team chemistry is everything and Grizzlies' head coach J.B. Bickerstaff agrees:
"Playing with guys that know how to play, playing the right way. A lot of guys pay attention to Mike [Conley]. He's so quick, obviously, and Marc [Gasol] as well," said Temple.
He concluded, "These are guys that can really score. They've really shown what they can do in this league. Playing off of those guys, I've worked on my shot and continued to try to shoot the ball as well as I can. My coaches having confidence in me, my teammates having confidence in me to shoot the ball and knock them down."
4) Wizards slump
"We didn't want to let (the Wizards) get their mojo back against us," admitted Grizzlies guard Temple. "They've been struggling. We wanted to keep it like that and continue this streak that we've built at home."
The struggle has been real for the Wizards. The team have dealt with a list of injuries and have dropped to 1–6 on the season.
"There's a little frustration," Wizards guard John Wall said. "This isn't the point where we wanted to be." Wall led all scorers with 22 points and had seven assists. The five-time NBA All-Star played in his 548th game on Tuesday night, tying him with Jeff Malone for eighth-most games played in Wizards history.
Bradley Beal, who finished with 17 points and seven assists added, "It's not pretty. It's not perfect. Everyone is antsy and frustrated, and nobody is more frustrated than we are in this locker room."
Washington head coach Scott Brooks had a message for his team after the game. "We got a long season — we got 90 percent of the season left, he said." "We just started seven games ago. We got 75 more games. They say it's a marathon, and it is. It's a long, grinding season.
He continued, "Our guys are not going to split apart. They are going to be frustrated at times with me and at each other. That's what good teams do. They fight through it together and figure it out together. I have all the confidence in the world that we will."
Notes
The Grizzlies are now 3–0 at the Grindhouse and 4–2 on the season.
Grizzlies hit 13 of 28 from beyond the arc. Garrett Temple went 4 of 7 from the three point line.
Memphis shot 20-of-32 (.625) from the floor, including 9-of-14 (.643) from three, in the second half — shooting 6-of-42 from field in the first half.
Up Next
The Grizzlies head to Utah for rematch against the hungry Jazz team on Friday Night.

Latest posts by Sharon Brown
(see all)