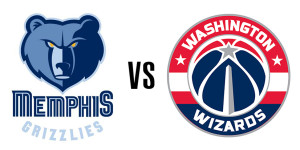 Thriller on Beale Street: Grizz defeats Wizards in OT, 112-103
The Grizzlies were looking for redemption after their 111-104 loss to the New York Knicks on Saturday night.
Coach Fizdale tweaked the starting line-up a little bit. Jarell Martin received his first start of his career. Martin started along with Mike Conley, Marc Gasol, James Ennis and JaMychal Green.
Both teams started out slow, the Grizzlies ended the first quarter up 27-22. With 9:10 left in the 1st half, the Grizzlies were up 40-25 but the Wizards came back and made it game again. At the half, the Wizards were only down by four points — Grizz lead 54-58.
In the second half, the game became interesting when both teams went back and forth with lead changes. The Grizzlies ended the game on a 24-7 run beginning with 3:17 in the fourth quarter when John Wall was called for a flagrant foul-1 on Vince Carter.  The Grizzlies went on a 7-0 run to cut the Wizards' lead to one with 1:55 remaining in regulation following the foul.
Marc Gasol hit a three to tie the game to force an overtime in the waning seconds of the final period.
During the overtime period, the Grizzlies went on a 12-0 run to seal the victory and held the Wizards to just three points in the period.
Stats of the Game:
Field Goal Percentage: Grizzlies 44.3 percent (39/88), Wizards 44.2 percent (38/86).
Rebounds: Grizzlies 47 (11 OREB), Wizards 40 (8 OREB)
Points in the Paint:34 Grizzlies, Wizards 54
Fast Break Points: Grizzlies 14, Wizards 23
Three Point Field Goals: Grizzlies 48.4 percent (15/31), Wizards 20.0 percent (5/25)
Bench Points: Grizzlies 49, Wizards 29
Assists: Grizzlies 24, Wizards 19
Players Notes
Grizzlies
Mike Conley led the Grizzlies with 24 points, 11 assists and four rebounds. Conley recorded his first double-double of the season. Also he was 3-of-5 from the three-point line.
Marc Gasol was 4-of-6 from beyond the arc. His game tying three pointer forced overtime. Gasol garnered his first double-double of the season with 20 points and 10 rebounds.
Zach Randolph added 20 points, seven rebounds and a team-high three steals.
Vince Carter was almost perfect from the three-point line going 5-of-6. Carter finished with 18 points.
James Ennis had a near double-double with eight points and team-high 12 rebounds.
Wizards
John Wall led the Wizards with 22 points and 13 assists.
Marcin Gartat notched a double-double with 14 points and 12 rebounds.
Bradley Beal also had with 14 points.
Otto Porter, Jr. added 13 points and 4 rebounds.
Highlights
Tid-Bits
The Grizzlies can shoot the three-ball. For the season, they have shot 35 three-pointers, which is the most through three games in franchise history (prev. 30 in 2007-08).
Conley and Gasol combined to score all of the Grizzlies' final 22 points with each scoring 11 down the stretch. They were clutch!!
Quotables
GRIZZLIES HEAD COACH DAVID FIZDALE
"I'll take it. I'm going to have bad dreams about John Wall for a long time, he's just special. Scott Brooks is a heck of a coach. I'm really proud of our guys we went through a stretch there where we couldn't do anything, it just shows the character of this team. We have a lot of grit. We were down eight when the flagrant foul happened and Vince [Carter] makes the two free throws then we got a quick five points to cut it to one. They just stuck with it. To be coming back home on a back to back, losing a tough one in New York then to come here and dig in and get this home win is another block on our foundation of character. I'm just really proud of these guys."
GRIZZLIES CENTER MARC GASOL 
On shooting more three-pointers this season:
"I think they go in; I have a second chance. Coach drew the play and I got a little further out than the play was drawn but I got my feet underneath and shot it and luckily it went in."
On his three-point shot:
"It's always good to help the team win. I don't see anything that extraordinary. I couldn't get myself going inside like I would like. My two pointers weren't going and eventually, I got going from the three-point line and helped the team win. But I think the key really was defensively. I think defensively at the end of the game. I don't know the whole number but the whole overtime, I think they only scored three points I think or something like that. That's the key. Making key shots is great and looks amazing but I think defensively, when we finally got down and did what we were supposed to do and we communicated, we were a little more physical, and Vinny's (Vince Carter) possession with rebounds, that's what we are. We cannot be someone that we're not. We've got to do our job defensively for us to have a chance offensively."
On Vince Carter's importance to the team:
"He's very important. He's another playmaker. He's a veteran player that knows how to play the game. He understands his role. He can shoot them from anywhere and he's huge. His playmaking ability makes him a unique player. He can shoot it. He can play a pick-and-roll. He can drive. He can play in the post and defensively, he's not the fastest guy anymore, but he's strong enough to switch on fours and sometimes fives."
GRIZZLIES GUARD MIKE CONLEY 
On the work Marc Gasol has put into his three-point game:
"He's been able to do that for a long time. He's always been one of the better three-point shooters in practice so now that coach is giving him the green light, you get to see him be more confident. You get to see him look for his opportunities and you can see we trust him to knock down the big shots. We drew up the play for him to get a couple of good ones and he came up big for us."
On the game tying shot:
"You can tell he kinda took his time on it. Got his legs under him but we drew it up well. He kinda stepped back a little too far but was still able to knock it down."
On ways that other teams are scheming for the Grizzlies this season:
"I think that we don't play the same way we used to. Teams have to scheme differently. You see them chasing us more so. We are in control with the ball movement as opposed to battle on the inside."
BRADLEY BEAL WIZARDS GUARD:
On tonight's game:
"We let it slip out of our hands.  We didn't play a great game.  I definitely didn't. I didn't show up on the offensive end. I think we've just got to figure out a way to close out games. We had a chance to win. In overtime the first couple minutes are crucial and once you've got that momentum it's pretty much a gut check. They got a big lead on us and we couldn't score and they won."
"They're really physical. It is what it is. We can't worry about them. We've got to continue to play. We've got to be physical back.  We can't just get hit and not hit back."
Up Next:
The Grizzlies travel to Minnesota to take on the Timberwolves on Tuesday, November 1st. Tip-Off is at 7 PM CT.

Latest posts by Sharon Brown
(see all)