Grizzlies Whoop That Clip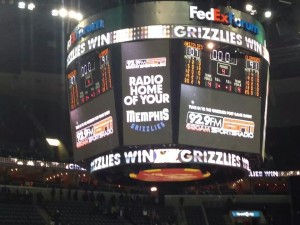 The Memphis Grizzlies extended their home game win streak to 22-0 last night against the Los Angeles Clippers in a 16 point win. Everyone loves beating the Clippers, what's even better is completely whooping them.
During this game Grizzlies fan were allowed the sweet treat of watching their team rise to occasion and play better than the level of their competition. The Grizzlies finished last night's game shooting 49.4% and nabbing 52 rebounds. Bench production was key again allowing only Courtney Lee and Marc Gasol to play over 30 minutes. We also saw the return of Nick Calathes after his 20 game suspension that carried over from last year. However, the back up point guard that continues to shine and did so again last night was Beno Udrih. Beno was one of the six Grizzlies players who were in double digits in last night's win.
The Grizzlies came out strong and kept control of the game, never letting the Clippers get any closer than 8 points. This game was by all definitions a blow out. While the refs were quick to whistle, we all expected that in this rivalry matchup. The Grizzlies only shot 69.6% from the charity stripe, leaving me wishing a few more of those free throws had connected resulting in an even higher scoring win. While there were none of the usual overly physical moments this matchup lends itself towards Blake Griffin still ended up with a bloody nose and shot 29.4%, so not all was lost.
Last night's player highlight goes to Marc Gasol: Marc Gasol almost matched his career high again last night, scoring 30 points. Not only was Marc our highest scorer but he also finished with a double double, collecting 12 rebounds. He was by far the most effective player on the court. Marc started the game out by taking and making jumpers, something that I love to see him do when he is open. The Clippers just didn't have answer for Marc and he finished the night shooting at 72.2%.  Marc was also a defensive presence making the Clippers big man DeAndre Jordan almost non-existent in last night's game. There is a reason our big man was named defensive player of the year 2012-2013 and we are all being reminded of that now. Still, his shot chart from last night, it's a thing of beauty.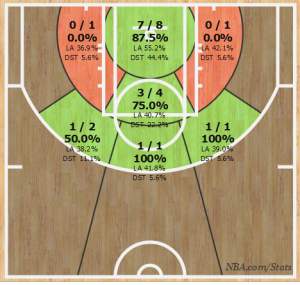 Some other quick player contributions: Courtney Lee shot 3/5 from 3 and Jon Leuer seems to be continuing his positive play shooting 50% on the night and connecting for a 3.
I would also like to honorably mention Tony Allen for providing us with a sweet highlight reel. Check out my vine of him faking out Big Baby Davis, cleaning up for Courtney Lee on the board and of course, just generally getting his Grindfather on.
My quote of the night came from Coach Bob Thornton before heading back onto the court after halftime. "They can't stop us. The more we get it inside and attack them in there, we're gonna put them down." Take a moment to enjoy last night's highlights showing just that.

Latest posts by Tabitha Smith
(see all)