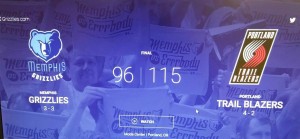 Grizzlies get Ripped in Rip City: Memphis Vs. Portland
Last night your Memphis Grizzlies traveled to Portland to play the Trailblazers. It was Portland's second game on a back to back. The Grizzlies needed to come out and play like they did against the Kings, get another win and re-validate their position as a top contender in the league. Unfortunately, that is not what happened in the Moda Center. Instead Damien Lillard would lead the Trailblazers to a 115-96 win over the Memphis Grizzlies.
This season has gotten off to a tumultuous start. The Grizzlies have played well in their wins and played absolutely abominable in their losses. If you spend any time on social media you know that the fan base is struggling with the lack of grit and grind. There have been critiques ranging from Jeff Green to Zach Randolph. In truth, it has been a difficult start to the season and tonight's game was no different.
It seems the league has collectively figured out the formula to beat the Grizzlies. Teams are cramming the paint, forcing outside shots and dictating the pace of the game. It was apparent from the start of this game that the Trailblazers were going to do just that. Thankfully, the Grizzlies came out hot. They shot 100% from 3 for the first quarter and finished the half at 50%. Courtney Lee had 12 points, 9 coming from his 3/3 from beyond the arc. Despite out shooting the Trailblazers, the Grizzlies found themselves down by 4 points at the half.
Portland had managed to out rebound the Grizzlies 27 to 20 with Mason Plumlee and Myers Leonard combining for 15 total rebounds. The Trailblazers grabbed 9 offensive rebounds. The Grizzlies only nabbed 2, costing them dearly in the way of second chance points. The Trailblazers scored 11 second chance points to the Grizzlies 4. 24 of Portland's 50 first half points were scored in the paint while the Grizzlies only scored 14 paint points. By all means, the Trailblazers looked like what we are used to seeing the Grizzlies look like. The saving grace in the first half was that the Grizzlies smothering defense kept CJ McCollum and Damien Lilliard to 6/19. However, the second quarter ended with two McCollum 3-pointers and a putback dunk by Plumlee that resulted in the Trailblazer lead.
The second half started with the gritty basketball the Memphis Grizzlies are known for. Zach Randolph and Marc Gasol were able to get back to work inside and the Grizzlies brought the game back to a tie at 62-62. It wouldn't be enough though. The Trailblazers would make 11 of their next 14 shots on a 17-6 run. The Grizzlies simply could not stop them and the lack of defense was appalling. It cost the Grizzlies. BIG. Portland finished the 3rd quarter leading by 19. They shot 72.2%, nailed 5 threes and continued to out rebound the Grizzlies. The 4th quarter did not turn around as poor perimeter and inside defense would continue to plague the Grizzlies. Portland finished the game shooting 50.6% and the McCollum/Lilliard back court that started the game 2/14 ended up 16/36 at the buzzer. While the 1st half hurt their overall shooting they combined for 11/17 from the three and 47 total points.
The Grizzlies were out-rebounded, out-shot and just down right out-played.
Let's get real for a second. The Grizzlies are struggling. Allowing a 40 point quarter is not characteristic of the tough-minded style of play that has carried the Grizzlies since they ousted the top seeded Spurs in 2011. I don't know that I am ready to say that "Grit and Grind" isn't going to work but if we are going to win we have to have more than that.
That said, we have a small handful of new guys and a handful of young guys. Yes, our core is still together but it is easy to see that the line-ups have not found a real rhythm. Substitutions create confusion, there doesn't seem to be the same level of communication defensively and the guys are playing out of position.
Marc Gasol and Mike Conley are supposed to be our on court leaders but Marc Gasol has yet to activate "Beastmode". It is hard to know how much Gasol's neck injury is effecting his performance but it's easy to see he is not playing with the aggression the Grizzlies need. Gasol is a pivotal part of the Grizzlies offense and defense. Last season he shot 49.4%, so far this season it's 41.2%. He's grabbing an average of 5.5 rebounds instead of his 7.8. He is assisting less and that doesn't seem like a horrible thing, except he's also scoring less. His average 12.5 point per game is a bit off his 17.4 ppg from last year. Sure he scored 15 points last night, but he was the most inefficient player on the court. So right now, that pivotal part of our offense and defense is not contributing the way he needs to and it hurts. It hurts to see this.
Marc, you lost buddy? https://t.co/Nt1YRicNiH

— Tabbi Joy (@tabnmem) November 6, 2015
While Mike Conley isn't doing horrendous, his shots aren't exactly falling. He is not shooting far off from last year's season average but he still does not look quite like "Captain Clutch".
What is our other tough issue? If you ask me, the obvious lack of energy when the team gets down. The fight that was so evident seems to have fizzled. It's hard to watch. I will give you that. But I will say this, we are six games into the season. Thanks to my girl Carmen here's a quick look at the numbers after 6 games in previous seasons.
Past seasons after 6 games: 2010-11: 2-4 2011-12: 3-3 2012-13: 5-1 2013-14: 3-3 2014-15: 6-0 2015-16: 3-3

— 1PrettyPearl (@1prettypearl) November 6, 2015
So yes, the play on the court looks bad. Against teams who make outside shooting their bread and butter it's almost unwatchable. That doesn't mean this season is over and it doesn't mean the Grizzlies aren't going to be competitors. While dropping 30, 50 and 19 point losses is not a good sign it is obvious that our core is rocked as much as we are. In last night's post game Mike Conley, Marc Gasol and Zach Randolph let us know that they see the issues.
Mike Conley on struggles- "we're not on the same page defensively. We can't try to outscore teams. We have to play to our strengths."

— Rob Fischer (@thefishnation) November 6, 2015
Mike Conley (1/2)- "you can get caught up in the trend of spacing, big men shooting 3s, running. It's easy to fall in love with it & say…"

— Rob Fischer (@thefishnation) November 6, 2015
Marc Gasol on 2 losses this week- "we're relying on our offense so much, putting pressure on our offense. We need to rely on our defense."

— Rob Fischer (@thefishnation) November 6, 2015
Z-Bo after Portland loss: "This is not us. This is not the way we play. It's embarrassing honestly. It ain't going to get easier."

— Ronald Tillery (@CAGrizBeat) November 6, 2015
The Grizzlies are now sitting at .500. (By the way- that's also OKC's record and leaves the Grizzlies sitting a half game behind the Spurs in the Southwest division) The team that no one wanted to see playing last night is who showed up in the second half. That said, we have to keep grinding Grizznation. There is a whole lot of basketball left and you might as well get some energy ready because this West Coast road trip is not over. The Grizzlies still have the Utah Jazz and the LA Clippers, both teams will be formidable opponents. This basketball season is in full force so get ready for the wild ride that we are sure to be in for.

Latest posts by Tabitha Smith
(see all)