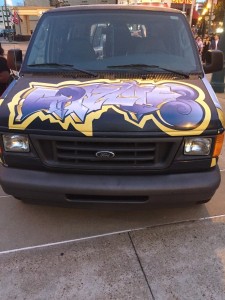 #FirstTeamAllMemphis: Grit N Grind Night at the Rebirds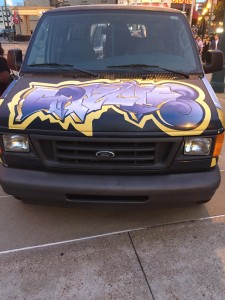 As we all know, Tony Allen's skill set doesn't just stop at being one of the league's top defenders. Not only is he making phone calls to promote school attendance, he's our airport's new spokesman and on Monday night he showed off his baseballs skills. Don't worry though, I don't think he's going to pull a Michael Jordan on us, but his participation in Grit and Grind night with the Memphis Redbirds gave Grizzlies fans all the more reason to love their fan favorite! Grizzlies fans had the opportunity to watch their #FirstTeamAllDefense player throw the first pitch, sign autographs and take selfies! I missed the first pitch but Chris Vernon from 92.9 ESPN made it just in time.
I did make it in time to see Grizz plaster a New Orleans fan in the face with a pie, take out that New Orleans fan in a race and catch the Grizz Girls giving us a preview of what we have to look forward to this season. I also had the delight of hearing Rick Trotter's voice announcing players, catching some of Joey Thornsen's good humor and getting pumped up to some music by Future. It was a great night for a Grizzlies fan to be at a Redbirds game and am I ever ready for the season to start!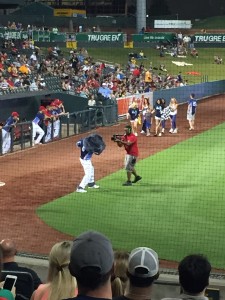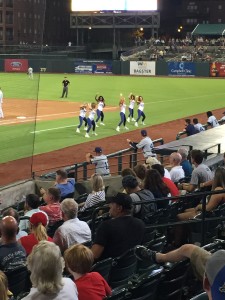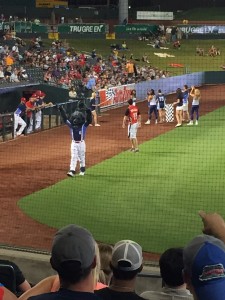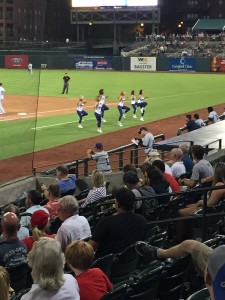 If you didn't already see it, check out the amazing photo gallery from Nikki Boertman at the Commercial Appeal! If you aren't itching for a Grizzlies game after doing that, well you just might not be a Grizzlies fan.
To culminate the evening the Memphis Rebirds auctioned off the game worn jerseys, in Beale street blue and gold, for both Memphis Grizzlies and Memphis Redbirds foundations. Over $15k was raised for charity! Here's an up close look at the #33 "Marc Gasol" jersey.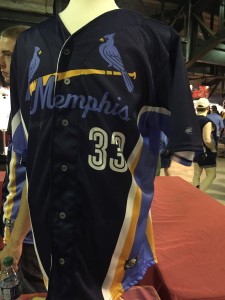 Let's hope for more joint ventures like this one in the future! It's a good time to be a Grizzlies fan!

Latest posts by Tabitha Smith
(see all)