A New Streak Begins: Grizzlies Down the Heat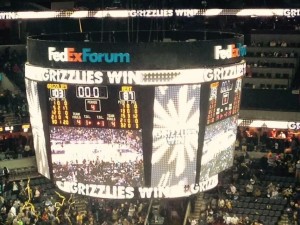 Grizzlies start a new streak at home beating the Miami Heat 103-87. After playing 20 games this season, Grizzlies are 16-4. The Miami Heat has now lost 4 games in a row with a record of 9-11. The Heat outscored the Grizzlies 50-40 in the paint. Both teams each had 5 players in double figures.
Players of the Game: Jon Leuer
Jon Leuer was the Grizzlies high scorer going 7-12 with 20 points and grabbed 12 rebounds. He was 2-3 from beyond the arc and also had 2 steals. This is his 1st double double of the season.
Grizzlies Back Court (Mike Conley, Courtney Lee, and Tony Allen)
Grizzlies back court were 21/25 and had 49 points. Mike Conley was perfect going 8-8 and 2-2 from the 3 point line; he ended up with 18 points. Courtney Lee had 17 points; he was 7-9 and 3-3 from the 3 point line. Lee also had 2 steals and 3 assists. Tony Allen chipped in 14 points, 5 rebounds and 2 steals; he was 6-8 from the field.
Game Notes
1) Grizzlies shot 58.9% from the field. Their highest shooting percentage of the season.
2) Grizzlies were 8/13 from 3, shooting 61.5%.
3) Grizzlies bench outscored the Heat's bench 35-19. Jon Leuer was responsible for 20 of those points.
4) Grizzlies improved on their FT shooting. They were 9/11, shooting 81.8%.
5) Marc scored a season low 2 points and was 1-6 from the field. He had a team high 7 assists, 6 rebounds and 1 block.
6) Zbo had 17 points and 6 rebounds.
7) Dwyane Wade lead all scorers with 25 points.
Up Next
Grizzlies will take on a hot Dallas Mavericks team in the Grindhouse at 7pm. Will Tony Allen and Courtney Lee be able to shut the water off against Monta Ellis?

Latest posts by Sharon Brown
(see all)