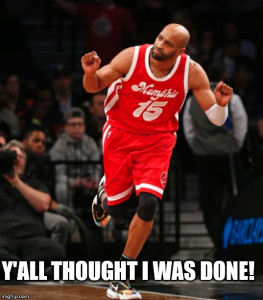 Grizzlies bounce Spurs 89-74
The Grizzlies hosted the San Antonio Spurs on Monday night. This was the first meeting of the season for the division rivals.
The Spurs were without Kawhi Leonard and it cost them tremendously. The Grizzlies held the Spurs to a season low 74 points. The first quarter  and final period were detrimental to the Spurs; they scored a combined 23 points (first quarter 14, fourth quarter 9) in those quarters alone.
For the Grizzlies, this was the first win over the Spurs since December 30, 2014 while snapping a nine game losing streak. The Grizzlies are the only team in the association to beat the Warriors, Cavs, Rockets and Spurs this season.
Stats of the Game
Grizzlies
The Brothers from another mother Marc Gasol and Zach Randolph led the team to victory. Big Spain finished with 15 points and eight rebounds. Zbo also finished with 15 points and six rebounds.
Mike Conley chipped in 12 points and nine rebounds while Vince Carter ended with seven points, six rebounds and a season high four blocks. Carter makes 40 looks so good.
Fizdale talked about Vince Carter's effort after the game:
"I think what helps the young guys more than his effort, is where he's at right now. He's next door lifting right now and he does that every game. He's probably the one hitting the ball against the wall right now, and that's the most important example that he can set for these young guys. It's how to work, how to get better and how to not be satisfied but what he gives us on the court is invaluable. Everybody else is surprised that he's doing this at 40, and Ron Rothstein always used to say, 'I'm surprised you're surprised.' He finds a way to continue to help us, and it's his approach every day. It's the fact that he takes care of his body the way that he does and that he keeps a positive outlook on everything. It's contagious to our team."
Brandon Wright by far had his best game since his return from injury. Wright scored with a season high nine points while going a perfect 4-of-4 from the field. Wright also grabbed three rebounds and a season high three blocked shots.
Wright spoke about lobs to the rim, "Playing with what the defense gives us. We've got to be better in the paint. We haven't been very good in the paint all year so that's a big emphasis for us. Having a guy you can just throw it above the rim to is always good."
Wright continued, "I just told Mike [Conley], TD [Troy Daniels], and Andrew [Harrison] just throw it up. I'm going to make it look good. It's either going to be a foul or a bucket. I've got to get on the officials a little bit because sometimes they miss some things when it's high in the air."
Spurs
David Lee led the Spurs with 14 points off the bench. Lee went 6-of-6 from the field. Lamarcus Aldridge finished with 13 points and 10 rebounds and recorded his 10th double double of the season.
Manu Ginobli added 12 points and three rebounds in 17 minutes of play. Dewayne Dedmon tied his season high by grabbing a game-high 12 boards. It's the ninth time this season he's lead the Spurs in rebounding.
Spurs coach Gregg Popovich shared his thoughts after the game:
"They did a great job. They were physical. They were active. We were lucky to have a tie game after nine turnovers in the first half, but just too many defensive errors and obviously if you make a shot in the fourth quarter, it would have helped but the shooting was horrendous. We had a lot of good shots. They didn't drop, but if they're not going to drop, you have to make sure that you don't make the mistakes that we did defensively. There were just too many mistakes at that end of the court so it ends up the way it was."

 
Up Next
The Grizzlies will host the Phoenix Suns on Wednesday at the FedEx Forum.

Latest posts by Sharon Brown
(see all)