Paul George and the Thunder Were Too Much for the Lowly Grizzlies
Final score: Thunder – 121, Grizzlies – 114
In yet another heartbreaking loss, the Grizzlies fell short to Paul George and the Thunder on Valentine's Day.
Memphis heads into the All-Star Break at 18-38, marking its lowest winning percentage at the break since the 2008-09 season (15-37, .288).
This also marks the seventh straight loss for the Grizzlies.
A few good things from the Beale Street Bears:
In the first, third, and fourth quarters, Memphis outscored Oklahoma City 96-82.
Andrew Harrison set new career highs in points (28), field goals (10-15 FG), three-pointers (5-5 3P).
Tyreke Evans ended with 23 points and posted his 24th game of 20-or-more points while tallying nine rebounds and seven assists.
Jarell Martin posted his third career game with at least 17 points and eight rebounds. His 17 points tied his second-highest career scoring total.
Chandler Parsons returned to the line-up off the bench after missing the last 20 games. Parsons chipped in 5 points in 12 minutes of play.
The Thunder Big Three were too much for the Grizzlies
Russell Westbrook, Paul George, and Carmelo Anthony combined for 70 of Oklahoma City's 121 points.
George (28 points) has led the Thunder in scoring for five straight games. George scored 22 of his 28 points in the first half and shot 10-of-15 from the field and 6-of-9 from three-point range. In the second quarter, George was 4-of-4 (all threes) with 13 points.
Westbrook with 23 points, 15 assists, 13 rebounds posted his 17th triple-double of the season. Oklahoma City is 12-5 when Westbrook records a triple-double.
Anthony added 19 points off of 7-of-18 shooting.
Let's talk about it
Grizzlies Interim Head Coach J.B. Bickerstaff
On what he wants to see accomplished by season's end:
"Growth. That's it. Everything from an individual standpoint, guys have to take steps forward. From a team standpoint, we have to take steps forward. So regardless of the situation, the foundation that we're trying to build is one. How competitive can we be every night and how unselfish can we be every night? That's the standard and then from that point, there has to be growth individually and as a team."
On Chandler Parsons:
"We'll work him in and see how he handles it. See how he tolerates it and then just like everybody else, you've got to earn your minutes. We've got to give him an opportunity to play some to get the kinks out and shake some of that rust off. But he'll earn his minutes."
Grizzlies guard Andrew Harrison
On how he can get better:
"I've just got to be consistent and not have those games in between my good games, continue to become a better leader, a better point guard and just continue to grow. I want to try to get some wins, that's the most important thing. Try to get some wins."
Grizzlies center Marc Gasol
On what he can do to lead the team after the break:
"Don't allow them to come up with excuses. Don't allow anybody to quit. Keep refining your craft, have respect for everybody that pays for a ticket to watch us and support us. That's pretty much it. Play the right way and play defense, it's simple. It's the same message over and over again, we just can't pick and choose when we do it and when we don't. We have to continue to be consistent with that and eventually we'll break through."
Up Next
It's All-Star break for the Grizzlies, they will return to action on Friday, February 23, 2017 against LeBron James and the new look Cavs.
PS: One thing to enjoy? Tyreke Evans will continue suiting up for the Grizzlies for the remainder of the 2017-18 season.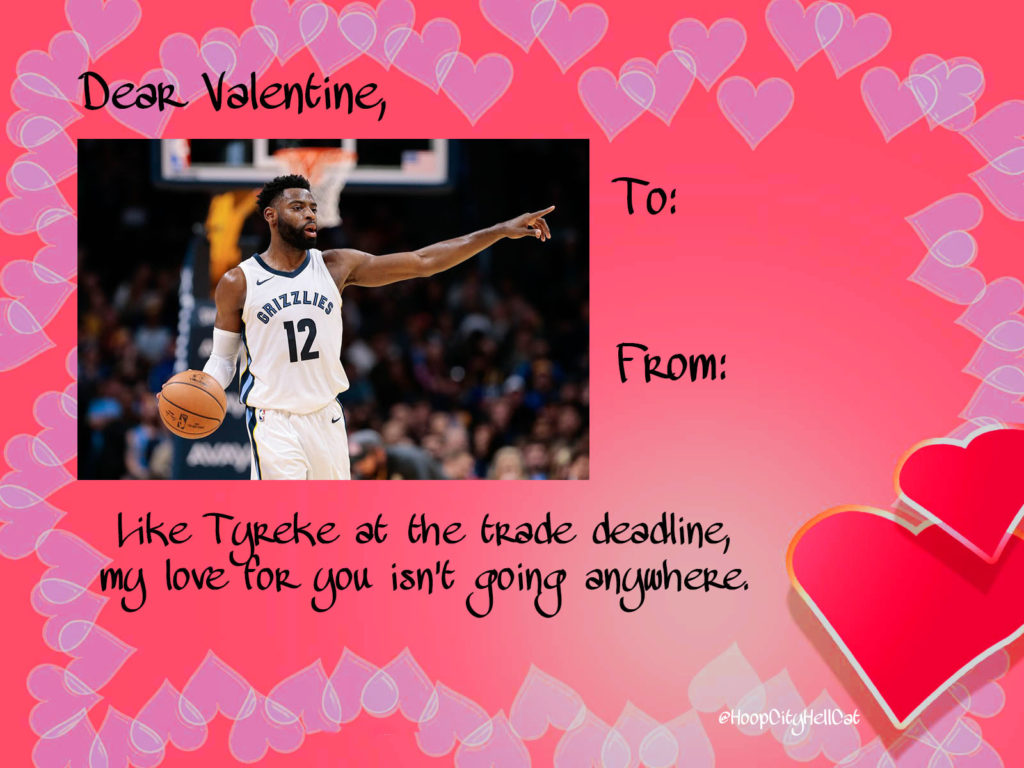 Latest posts by Sharon Brown
(see all)