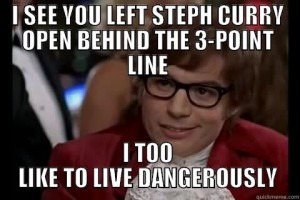 Grizzlies vs Warriors: Don't Call it a Comeback
Last week when these two teams met, the Grizzlies game plan fell apart horribly. The Warriors clobbered them by 50 points. The succumbed to the worse loss in franchise history. The Grizzlies were only competitive in the first quarter. That nightmare on Beale Street we'd like to soon forget.
The Grizzlies are struggling bad with a record of 3-5 in the brutal west. This wouldn't be a problem if they were in the eastern conference. This is going to be a battle.
The Grizzlies will be short handed after a trade went down on Tuesday afternoon:
#Grizzlies acquire @mchalmers15 & @jamesda_truth from Heat. Details > https://t.co/PF3DU8XPut

— Memphis Grizzlies (@memgrizz) November 10, 2015
Neither Chalmers or James Ennis will be avaliable for tonight's game. 
Griz will be seriously shorthanded tonight: no @bwright34 and Chalmers/Ennis won't be available vs. GSW. — Pete Pranica (@PetePranica) November 11, 2015
Best of luck to Beno Udrih and Jarnell Stokes in Miami. Welcome to Memphis, Mario Chalmers and James Ennis.  
Seven ways the Grizzlies can conquer the Warriors
1) The Grizzlies must compete for 48 minutes. All that is asked of them is for them to go out there and compete! Fans want to see a competitive game. Will the Grizzlies be able regain their identity against the reigning NBA champs?  
2) Marc Gasol must be aggressive and selfish. He has to take open shots and not be passive. Gasol cannot let Andrew Bogut, Festus Ezeili and Draymond Green get the best of him in the paint. Gasol and Zach Randolph must dominate the paint and make their presence in the low post count — if not, it will be a long night for the home team.     
3) DEFENSE, DEFENSE, DEFENSE!!!!! The players must talk to each other on defense and not leave the Warriors open at the three point line. The lack of focus on defense has definitely been a problem. In the losses, some of the players gave up on the defensive end.  
4) Grizzlies coach Dave Joerger need to withstand the game plan of Warrior interim coach Luke Walton. Maybe Matt Barnes need to be the starter tonight instead of Tony Allen. Matt may not be making three pointers at the moment but I'm not sure if the Warriors want to leave him open and wish he continues to miss.  
5) Russ Smith should receive at least some playing time this game. Mike Conley cannot play the entire game since he may have to run after Steph Curry or Klay Thompson. Both are tough match ups for Conley. Smith is wild and unpredictable but that is what the Grizzlies may need to get out of their funk. We are ready for some Russdiculous tonight!!  
6) Containing Steph Curry is going to be hard. At this point, I have no clue how that can take place. He's the reigning MVP for a reason! In the last outing, Curry scored 21 of his 30 points in the third quarter alone. Matt Barnes or Tony Allen should guard him at all times. If the Grizzlies lose, it shouldn't be on the shooting of Curry. This is going to be a hard feat regardless.   
7) This team must have a better offensive stride and make shots, point blank! They have to be better on the offense. The Grizzlies cannot win a game against any team in the NBA shooting an abysmal 27 percent from the field while going 26-96. I know it will do something to the team and Grizz Nation if this nightmare takes place again at the Grindhouse. I don't think we can take an obliteration of this magnitude ever again.    
Thoughts
I want to feel positive about the outcome of this game. I really, really do. The Grizzlies are 3-5 and could very well be 3-6 after tonight. A balanced attack from them from start to finish is what I want to see. They must come out to compete and have the will to win. We need to see all heart — grit — and grind from this team. The season is not over but this team must get it together before it's too late. 
They have to give the crowd a reason to cheer and be in the game. The Grindhouse has been a tough place to play and we need to keep it that way. I remember back when the crowd willed this team to win in the playoffs. We must continue to believe in them as they continue to believe in themselves. All of us need the comeback of Memphis Grizzlies basketball because we haven't seen it since last season. 
The past is just that the past and they shouldn't let the 50 point loss affect them in a negative way. It should be a motivation. This team may have issues but they must put up a fight. All we ask for is 48 minutes of effort, 48 minutes of grit and 48 minutes of grind. It will be a battle!!  LET'S GO!!
Tip-Ins
Where: FedEx Forum aka The Grindhouse in Memphis, TN
Tip-Off: 7:00 CST TV/Radio: Fox Sports Southeast/92.9 FM ESPN Memphis  
Happy Veteran's Day to all those who have served and for those who continue to serve. The Grizzlies will have a special item for sale in honor of our troops:
The @memgrizz Hoops For Troops shirts are now available at the Grizzlies Den @FedExForum (limited supply). pic.twitter.com/FJesBn0lKi — Jason Wexler (@MainStMemphis) November 11, 2015

Latest posts by Sharon Brown
(see all)