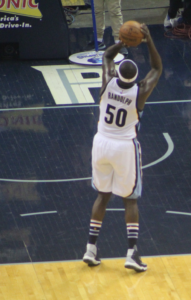 A Bittersweet Goodbye to ZBo
I never thought that the last time I saw Zach Randolph in a Memphis Grizzlies uniform would be the last time that I saw Zach Randolph in a Memphis Grizzlies uniform.  Mr. 20 and 10, MacBo50, Fiddy For the City, Memphis's Son, ZBo, Zachary McKenley Randolph…is no longer a part of the Grizzlies roster.  While I understand this is a business and everything can't last forever, I'd be lying to you if I told you I wasn't feeling some type of way about it.
Who ZBo Is to Memphis
When ZBo arrived in Memphis in 2009, I can remember people thinking what is Memphis doing.  Here's a guy that was just about guaranteed to give you 20 and 10 every night, but nobody wanted the headache.  His off-court antics and personal affiliations had given him a bad wrap.  Why, oh why, would Memphis want to bring THIS guy into the franchise? The franchise was trying to become relevant, but how would they possibly do that by adding a proverbial bad boy to their roster?
Memphis and Randolph had a lot more in common than they thought, and their marriage was mutually beneficial.  Randolph is still known as being a beast on the court, but off the court, people know of his kindhearted nature and humble spirit.  It's as if Randolph did a complete 180.  Maybe he thought this was his last opportunity.  Maybe he simply matured. Personally, I like to go with the theory that being in this city changed him just as much as him being a part of the Grizzlies franchise changed the franchise and this city.
If there's one thing for certain about Memphis, people in this city LOVE basketball.  We always have.  And as much as we love basketball, we love our players even more.  Zach Randolph didn't have to immerse himself into this city's culture to be loved.  He could have easily just been Mr. 20 and 10 and been a dominant force on the court and gotten love.
This city has watched ZBo evolve from the guy no team in the league wanted to be bothered with to Memphis's beloved son.  He immersed himself into our city.  He embraced our city.  He made OUR home HIS home.  He gave our kids high fives and showed them interest no matter what he was doing.  He paid past due utility bills.  He gave out food baskets.  He took kids Christmas shopping.  We saw ZBo get married.  We watched their family grow.  We mourned with him when his mother passed away.  He let us become a part of his life, and he, in turn, became a part of ours. ZBo is more than just a basketball player to this city.
He's a brother to the guys who played with him, and he's like that friendly neighbor down that street that you can count on to watch your house and check your mail when you're out of town (dependable, reliable, loyal) to the fans.  He was literally our guy next door. It was commonplace to see he and his fellow Core Four brother, Tony Allen, taking in the city's night life.  It wasn't out of the ordinary to catch him walking downtown during the season.  He was the guy in the locker room that even after a tough loss always made time to talk to the media with at least one "yeah, most definitely…" and a vigorous head nod of understanding to let you know he was listening.  At fan events, he always made time to take pictures (I've got a few) and sign autographs.  How could you not love this guy?
The Bitter and The Sweet of his departure
His departure, especially knowing the Grizzlies didn't make an offer (even of a lesser amount), is leaving a lot of fans sad and bitter.  For me, it's bittersweet.  Sure, I wanted to see Zach Randolph end his career in this city.  I thought the franchise would extend him an offer, and he'd take it, no matter what it was.  I mean, he's done it before, right?
For all of us that say we love him though, how fair is that to him?  How fair is that to his family?  You can't in good conscience ask a man to take the hometown discount twice, while also continuing to take one for the team by coming off the bench because the franchise is preparing for the future without him in it. There's no way the Grizz were going to be able to match that offer.  I'm not dead set on the fact that what he's getting in one year would have totaled to the offer he may have received from the Grizzlies for multiple years if one had been extended.  So, trust me when I say, I get the bitter.
For me though, there's also the sweet…
I've had the opportunity to meet ZBo several times, as a regular fan and as part of media with AHHC.  His demeanor was the same every time…EVERY TIME.  He was always kind, polite, and smiling.  He has an infectious smile.  I have several pictures with him, lots of paraphernalia donning either his likeness or the number 50, and I was even able to get him to sign a poster for my Daddy a couple of years ago for his birthday.  That's sweet.
There's the fact that you could have just about told a lie that anybody else paid a million dollars to MLGW for people's bills and more people would have been skeptical.  But you tell them ZBo did it, and even after he comes out and says it's not true, people were still standing in line believing it.  That people trust in humanity that much because of the kindness that this one man has shown this city…that's sweet.
This franchise had never won a playoff game before this guy became a part.  They hadn't missed the playoffs since missing the first season after he arrived.  He leaves this franchise with the second longest streak in the Western Conference, third longest streak overall in playoff runs.  That's sweet.
He leaves this franchise knowing that no one else will ever wear the number 50, which for me went without ever needing to be said.  He currently leads this franchise in total field goals made and two point field goals made and attempted.  He's the all around rebound leader for the franchise, and he follows only behind his Core Four brethren, Mike Conley and Marc Gasol, in games and minutes played for this franchise.  He left it all on the court time after time.  He was the consummate professional no matter the role he was asked to play.  He did it for the city…OUR city…HIS city more times than we can count. That's sweet.
Thank You ZBo
So, to Zachary M. Randolph, I say thank you.  Thank you for eight seasons of unforgettable basketball.  Thank you for embracing our city.  Thank you for immersing yourself into our culture.  Thank you for some wonderful memories.  Thank you for being OUR blue collar player in OUR blue collar town.  Best wishes to you and your family on your new beginning in Sacramento, and remember when you've played your last game…Memphis is YOUR home, and there's no place like home.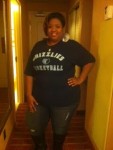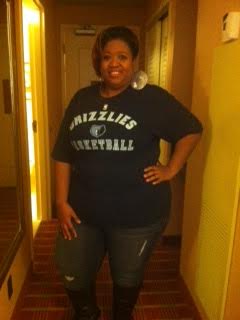 Carmen was born and raised in Memphis.If the Grizzlies are playing at the Grindhouse, you'll almost surely find her there.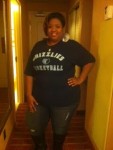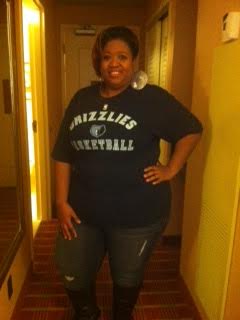 Latest posts by Carmen Patton (see all)