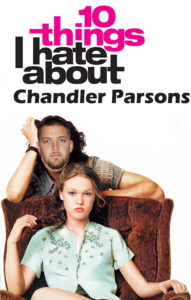 10 Things I Hate About Chandler Parsons
**This piece should be read in good humor. These opinions are not my own. Thank you in advance to all of the loyal fans who were my inspiration to pen 10 things I hate about Chandler Parsons.**
1. I hate the way he brought signing a star to the Grizzlies. It was once whispered in the annals of Grizznation that Memphis just didn't have the clout to ever sign a star. There was no way someone would come here, to Memphis, the city we all love so much yet can't really believe in enough to fathom this elusive star signing. To take it even further, there was no way the Grizzlies would sign a shooter! Yet, in a beautiful twist of fate Chandler Parsons signed a contract to become a Memphis Grizzly. Better yet, he signed a 4 year contract. Don't you just hate that?
2. I hate the way he's played as many games as Brandan Wright. It's just not right. Wright has been injured and in his tenure as a Grizzly has played 12 games, all in the 2015-2016 season. I mean as an injured player surely Parson can quit showing Wright up. Parson's already played 12 games and he's only been on the team since the beginning of this season! Sure Parsons is making a butt load more money than Wright but gosh, I expect someone who prefers to warm the bench for money to sit out a little more than Parsons has.
3. I hate the way he signed while still injured and is actually taking time to get in shape. I mean seriously, what is this guy's problem. I mean doesn't he get paid millions of dollars to ruin his career by being on the floor before he is ready. Since I am an athletic trainer (in my head) I just can't believe he shouldn't be playing his 32.9 average minutes right now. Obviously he's just weak. I mean only someone who is weak would get back in shape before sacrificing their body for the game.
4. I hate the way he actually is true to who he is. I mean, THE NERVE. How can he move to Memphis, sign with the Grizzlies, and then still be so trendy (the V-neck ya'll).
Chandler Parsons's v-neck deeper than J-Cole lyrics pic.twitter.com/QABb39a37E

— Hannah Segui (@LilHannahS) December 9, 2016
He should have obviously forgotten who he is as a person and become someone different so he would be more like-able to the fan base right?? I mean despite the fact that there was never anything that I would describe as "gritty" or "grindy" about Parsons that shouldn't matter. He should still know that Grit-and-Grind is a pre-requiste to being a Memphis Grizzly. If he doesn't punch somebody soon we should definitely cut him because he probably doesn't understand what 'errbody means. #MemphisAF
5. I hate the way he actually enjoys his life in his down time. This is an egregious offense to me. It reminds me of the time Marc Gasol went to Target on his KneeRover. You all remember that right? If he could be out shopping then there was NO REASON he couldn't be playing basketball!!! So Parson, how dare you party and be present on social media! If you ask me, he should be spending every waking minute of his life in the gym working on strength and conditioning. Obviously when I am not ready to perform for work I don't have ANY fun. I pretend I'm Gollum and slink into the cavernous depths until I have obtained My Precious goal. Why can't he just live up to that standard? After all, I am paying him millions to do nothing but entertain ME on the court while he plays the sport of basketball. Oh wait, that's actually the Grizzlies organization paying him, but potato/pahtatoe.
6. I hate the way he's not averaging his 37.7% average 3-point shooting. This is especially frustrating because right now the Grizzlies are shooting more threes than ever. They are averaging 8.9 makes per game on 25.7 attempts. That's ONLY 34.6% shooting. I don't even care that the team is making 44.7% more threes than they did last year. I expect MORE!!!! If Parsons would just decide to not be injured and play to the standard I thought he would then the three point stats would go from pretty damn awesome to incredibly epic!
7. I hate the way he's not one more player to actively throw into the already insanely confusing rotations on a regular basis. He obviously needs those limited minutes right? Coach Fizdale should be tossing him in the line-up at will, not resting him. He needs to be out there causing even greater disruption to the lack of flow we already see! Better yet, forget the limited minutes and make him go stand in the corner for the whole game while the other 4 players run the floor. Then he can just shoot corner threes and we can all be mad he isn't playing defense. But at least he's getting minutes and a higher offensive rating right?
8. I hate the way he gives the fan base this season's scapegoat. It happens every season. We have a losing streak. The Grizzlies are less than perfect. They aren't the team we decided they should be. We ignore all logic about what could really be going on and pick one player to blame for all our woes. I just hate that Parsons sitting on that bench has found himself in that position. It's just too easy for us. We should have to work harder to have that scapegoat, to defend our position. Instead Parsons just sits there, collecting cash, making it easy on us to point the finger right at his well-dressed, perfectly groomed self.
9. I hate the way he's let me down on my non-researched expectations. What is going on with him? Really? I expected him to average around 15 points like he has for the last four seasons. Especially since he had the entire off-season to get ready to go. After all, he had his right knee surgery in March. It's not like he got another knee injury this season. Oh wait, yeah, now that I have checked it out he actually hurt his left knee as well. Then the Grizzlies promised to take their time to rehab his knee too? That's it, we never should have signed him. I expect immediate results from someone earning over 22 million dollars this season.
10. I hate the way he is so damn beautiful. It's not right. One man should not be able to be amazing at basketball and an underwear (oops I means jeans) model.
Like what you see, #Mavericks fans? Chandler Parsons doubles as model for Buffalo jeans http://t.co/ReBEjoXLpj pic.twitter.com/oDhlZPrv3s

— SportsDayDFW (@SportsDayDFW) July 14, 2014
Nature dictates that you can't have your cake and eat it too. But there he is, in all his blonde hair, blue eyed, rippling muscles, tanned up, Ken doll glory. Chandler Freaking Parsons. Being gorgeous and good at sports! He probably isn't human. Which, by the way, makes it even more ridiculous that he isn't back on the court.
Chandler Parsons has now played a total of 215 minutes in a Grizzlies uniform. He started the season injured, is still injured, and is without question not playing to the caliber that he has in the past. Let's pretend for a minute that we didn't have the Bionic Man in Mike Conley or the discoverer of the Fountain of Youth in Vince Carter. If maybe our standards allowed a player we made a HUGE investment in to actually get the rest and rehab he needs with the support of the fan base this post wouldn't even exist. Keep a cool booty Grizznation. If Parsons is still struggling after rehabbing this year, if he says he's back to 100% and still can only manage a 5 minute game, then let's start having a tough conversation about him. For now, let's remember what made the Grizzlies great once upon a time. It was that they had fans who believed in them. #ImOut
**Shout out to RotoWorld for injury updates and basketball-reference.com for stats**

Latest posts by Tabitha Smith
(see all)