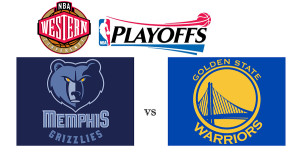 Grizzlies v. Warriors: Grizzlies fall in Game 1
Game 1 kicked off at Oracle Arena in Oakland, CA. The Warriors were too much for the short handed Grizzlies. Warriors took a 1-0 lead by defeating the Grizzlies 101-86. The Grizzlies were without their floor general Mike Conley once again.
Game Notes
Grizzlies big men showed up to play without much help from their supporting cast. Marc was the Grizz leading scorer with 21 points, 9 rebounds, 3 assists and 3 steals. He went 11-12 from the free thrown line.
This game proved to be Zach Randolph's best game of the postseason thus far. He added 20 points, 9 rebounds and a team high 5 assists.
Grizzlies didn't get much of a boost from their starting back court. Nick Calathes had 0 points after playing 21 minutes. He did, however, amassed 3 steals, 2 assists and 1 rebound. Courtney Lee didn't have a good performance himself. He had 9 points, 2 assists and 2 rebounds.
Tony Allen had a solid game with 15 points, 4 rebounds, 3 assists and 3 steals.
Stephen Curry led the Warriors with 22 points, 7 assists, 4 steals and 2 rebounds. His back court mate, Klay Thompson, chipped in 18 points, 6 assists, 3 rebounds and 1 steal.
Draymond Green had a pretty good game for the Warriors with 16 points, 5 rebounds, 3 assists and 2 steals. He was 4-8 from the 3 point line.
Team Stats
1) Both teams had the same amount of steals (13), turnovers (15) and points in the paint (44).
2) Warriors won the rebound battle, 39-37. Defensive rebound totals 32-30 and 7-7 offensive rebounds.
3) Warriors had 2 blocks in the game, while the Grizzlies had none.
4) Warriors shot 50.6% from the field. Grizzlies shot 45.2%.
5) Warriors were 13-28 from the three point line while shooting 46.4%; Grizzlies were 3-12 from the 3 point line while shooting 25%.
6) Grizzlies went 17-22 from the free throw line. Warriors was 10-15 from the free throw line.
7) Warriors bench outscored Grizz bench 30-21.
8) Warriors had 4 starters to score in double figures; however, only 3 starters for the Grizzlies were in double figures.
Analysis
1) Grizz can't beat this Warriors team when the Grizzlies starting back court only has 9 points combined. And those 9 points came from Courtney Lee alone. Golden State back court of Steph Curry and Klay Thompson had 40 combined points. Grizzlies big men can't do it by themselves. It needs to be a balanced team effort.
2) Grizzlies have to click on all cylinders in order to beat this Warriors team. Game 1 was not an indication of that.
3) Bench production has to be better. A hero must emerge off the bench in order for the Grizzlies to have a fighting chance.
4) Jeff Green MUST step up. His back is obviously not 100%. However, he needs to stop settling for jump shots. He need to take the ball to the hole like he did late in the game.
5) Poor shot selections and defensive lapses were the Grizzlies major downfalls in this game. Late in the 4th, they cut the lead to 13 and made key stops, but the offense was discombobulated. They just couldn't convert and that is why they miss Mike Conley desperately in late game situations such as that.
Golden State is expected to defend their home court. Warriors only lost 2 games at home in the regular season. It's hard to win in Oracle. But it can be done. This series is far from over. The Grizzlies have to make minimal mistakes and have to play better defense and out of this world offense. Nothing will come easy, but they will have to scratch, claw, and dig deep in order to be in this series. As long as they play hard and fight, they will always have a chance. All Heart..Grit…Grind!!
Game Highlights
http://espn.go.com/video/clip?id=espn:12813952
***Stats from ESPN.com and the Official Memphis Grizzlies mobile app***
Golden State vs. Memphis
Game 2 – Tuesday, at Golden State, 9:30 p.m.
Game 3 – May 9, at FedExForum, 7 p.m.
Game 4 – May 11, at FedExForum, 8:30 p.m.
Game 5 – May 13, at Golden State, if necessary, TBD
Game 6 – May 15, at FedExForum, if necessary, TBD
Game 7 – May 17, at Golden State, if necessary, TBD

Latest posts by Sharon Brown
(see all)