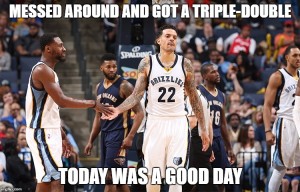 In Lance we trust: He was truly 'Born Ready' against the Pelicans
The Memphis Grizzlies faced (39-26) the New Orleans Pelicans (24-10) on Wrestling Night at the Grindhouse. Memphis is a 'wrasslin' town and we had a show. Jerry Lawler and XPac put on a show during their wrestling match for the sold out crowd.
Dave Joerger set the tone for the team earlier in the day when he gave away 1500 tickets to GrizzNation through his foundation. Joerger told the team:
"You're going to go out there and we're going to play as hard as we can. You're going to feel the love of this entire city beside.' They had already sold 17,000 before that. It's a partnership. There's so much pride here. Sometimes — not to say you ever take it for granted – but If you've been here for a while you know it and it's just part of our fabric, but sometimes you just need to be reminded. The new guys, they got a taste of it. The Utah game was just off the charts. The sound went out and stuff. For those many reasons, that's why we did it for them."
The game started off slow but things changed one Lance Stephenson entered and set the tone for the night. Stephenson said, "A lot of guys have something to prove that are playing right now, so that's probably the edge we have right now."
There was no quit in the grit and this shorthanded Grizzlies team went on to defeat the Pelicans 121-114 in OT. For the first time in team history, the Grizzlies swept the Pelicans in the season series.
Stats of the Game
Field Goal Percentage:  Grizzlies 49.0 percent (47/96), Pelicans  44.2 percent (42/95).
Rebounds: Grizzlies 50 (10 OREB), Pelicans 58 (15 OREB)
Points in the Paint: Grizzlies 58 (29/61), Pelicans 54 (27/54)
Fast Break Points: Grizzlies 14 (5/10) , Pelicans 17 (4/6)
Three Point Field Goals: Grizzlies 42.9 percent (6/14), Pelicans 29.2 percent (7/24)
Bench Points: Grizzlies 52, Pelicans 26
Steals: Grizzlies 14, Pelicans 6
Player Notes
Grizzlies
Matt Barnes recorded his first career triple double with 26 points (8-of-19), 10 assists and 11 rebounds. He also went 4-of-8 from beyond the arc and 6-of-6 from the free throw line.

As a reserve, Lance Stephenson led the Grizzlies with a career high 33 points (12-of-20), seven rebounds, four assists and two steals. Matt Barnes proclaimed in the locker room, "All Hail Born Ready!"

JaMychal Green with a career high 21 points (9-of-15) and 10 rebounds. This was his fourth double of the season.

Briante Weber made his NBA debut and his first start by scoring 10 points (4-of-6), seven assists and five rebounds.
Pelicans
Jrue Holiday led the Pelicans with 34 points (12-of-27), 10 assists and five rebounds with his sixth double double of the year.
Anthony Davis secured his 34th double double of the season with 25 points (9-of-17) and 13 rebounds.

Ryan Anderson off the bench finished with 24 points (8-of-17), 14 rebounds and 2 assists for his eight double double of the season.

Dante Cunningham added 17 points (7-of-11), six rebounds, four blocks and two steals.

Toney Douglas finished with 12 points (5-of-15), seven rebounds, six assists and two steals.

Highlights
Thoughts
The Grizzlies started with grit but ended with that all mighty grind. These guys are resilient. This team has suffered so many injuries but they still have found a way to win.
They are playing off pure heart and emotions right now. I feel bad about the injuries that have plagued this team. But somehow, they are still fun to watch.
At one point last night, five guys were on the floor for the Grizzlies that wasn't with the team last season. That was amazing in itself. These guys went out there and competed.
I don't know how the Grizzlies will fair for the next month or even if they make the playoffs at this point. But I do know, they will not go down without a fight.
I love this city and I love this team. We will be in this grind together!! #GrindForever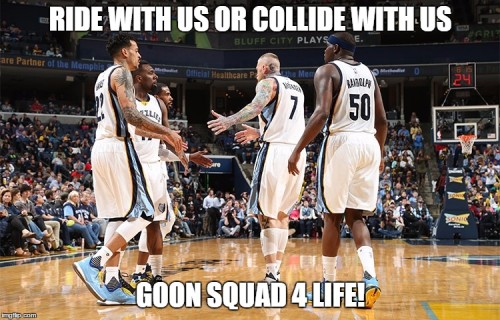 Interesting Stats
Up Next
The Grizzlies travel to Atlanta to take on the Hawks at the Phillips Arena. Tip-Off is at 6:30 PM CST.
Injury Update
The Grizzlies announced that Mike Conley will be out due to an Achilles tendinitis and re-evaluated in 3 to 4 weeks. Chris Andersen aka Grizzilla will be out indefinitely with a partial separated shoulder and will be continued to be evaluated.