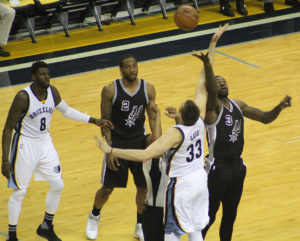 Zach Randolph can ball
Zach Randolph can ball. He gave the Spurs the business in reminiscence of 2011. Zbo finished with 21 points off of 9-of-16 shooting and eight rebounds. Several chants of "Z-Bo! Z-Bo!" proclaimed the crowd inside of the Grindhouse in Memphis.
Coach Fizdale tweaked the starting line-up by adding Zbo and James Ennis, III. He continued that trend from the second half of Game 2 in San Antonio and went with what worked against the Spurs.
Coach David Fizdale talked about On Zach Randolph's influence during the game: "Z-Bo [Zach Randolph] was fantastic. I said it in the interview in the third quarter, it just matters so much to him. The guy's been through so much this year personally and he's made the biggest sacrifices. whether he's starting for me or coming off the bench, he's just been fantastic and I'm just very happy that I got a chance to coach Zach Randolph."
Memphis is very happy Zach Randolph plays for the Grizzlies.
"It felt good out there to start and get a rhythm and get in a rhythm out there faster. It felt good out there," Randolph said after the game.
Mike Conley proclaimed, "It's fun to see him succeed. It's fun to see him do the things he's accustomed to doing." He continued, "I felt like he was a secret weapon today and we finally unleashed him. He really changed the game and hopefully changed the series and will give us some confidence."
Since the start of the playoffs, it has been said time and time again the Big Three of Mike Conley, Marc Gasol and Zach Randolph needed to go off at the same time. In Game 3, all three scored 20 or more points. Conley finished with 24 points (7-of-13 FG) and eight rebounds. Marc Gasol ended with 21 points on 8-of-14 from the field, six rebounds and three assists.
The Grizzlies also received productive minutes from players other than the Big Three. James Ennis, III who chipped in 12 points and Andrew Harrison dished out six assists and scored five point. Wayne Selden, Jr. recorded his first double figure game in a post season game. And he also did this:
After averaging 35.4 points in the first two games, Spurs Forward Kawhi Leonard was held to 16 points. Leonard only took two shots in the second half. The Grizzlies was able to make his night very difficult. Both Tony Parker and Manu Ginobili were held scoreless for the game.
Final score: Grizzlies 105, Spurs 94
What's next
The Grizzlies should capitalize on their momentum going into Game 4 on Saturday night at the Grindhouse. The Grizzlies Big Three must have a repeat performance in Game 4.
The Spurs will not lay down without a fight. A dog fight is expected on Saturday because it's going to be a good game. The Grizzlies has to get the win, if not the series is all but over. Being down 3-1 to the Spurs would be catastrophic for the Grizzlies at the point.
Prediction: Grizzlies take Game 4 to tie the series 2-2.

Latest posts by Sharon Brown
(see all)